How to Leverage Social Proof in Social Media Marketing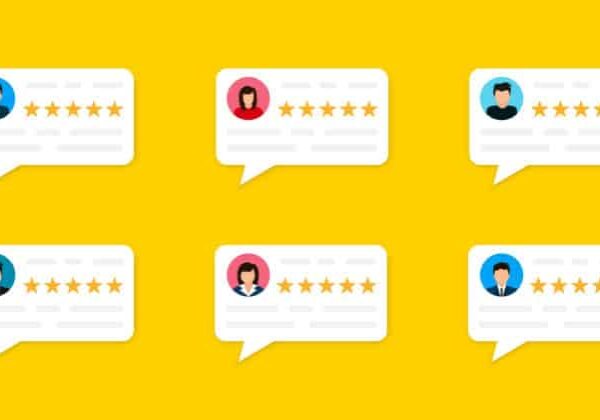 By Prebuilt Sites Team
August 19, 2022
Customers are more likely to buy from brands their friends have recommended to them or from a company that has a lot of positive testimonials. This helps build trust in a company by proving that you offer solutions to their problems. If you want to give your social mediaaudience more convincing reasons to buy from your business, you need to be leveraging social proof. This can be an image of your product in use, a quote from someone who purchased your service, or an award from a trusted organization. It can come from customers, industry establishments, press outlets, and many other sources. When choosing social proof, keep your social media strategy in mind. Then plan to share the examples that align with your goals. Build trust with your customers by sharing positive reviews, accolades, and awards. To showcase that your product helps solve problems, share user generated content and client testimonials. Keep reading to learn more about how to leverage social proof in your social media strategy. If you have any questions, reach out to us at Prebuilt Sites or The BBS Agency. We'd love to help you out.
Want to give your audience more convincing reasons to buy from your business? Curious how to leverage social proof on social media?
In this article, you'll learn how to find and use social proof in your organic social media marketing campaigns and discover social proof examples to inspire you.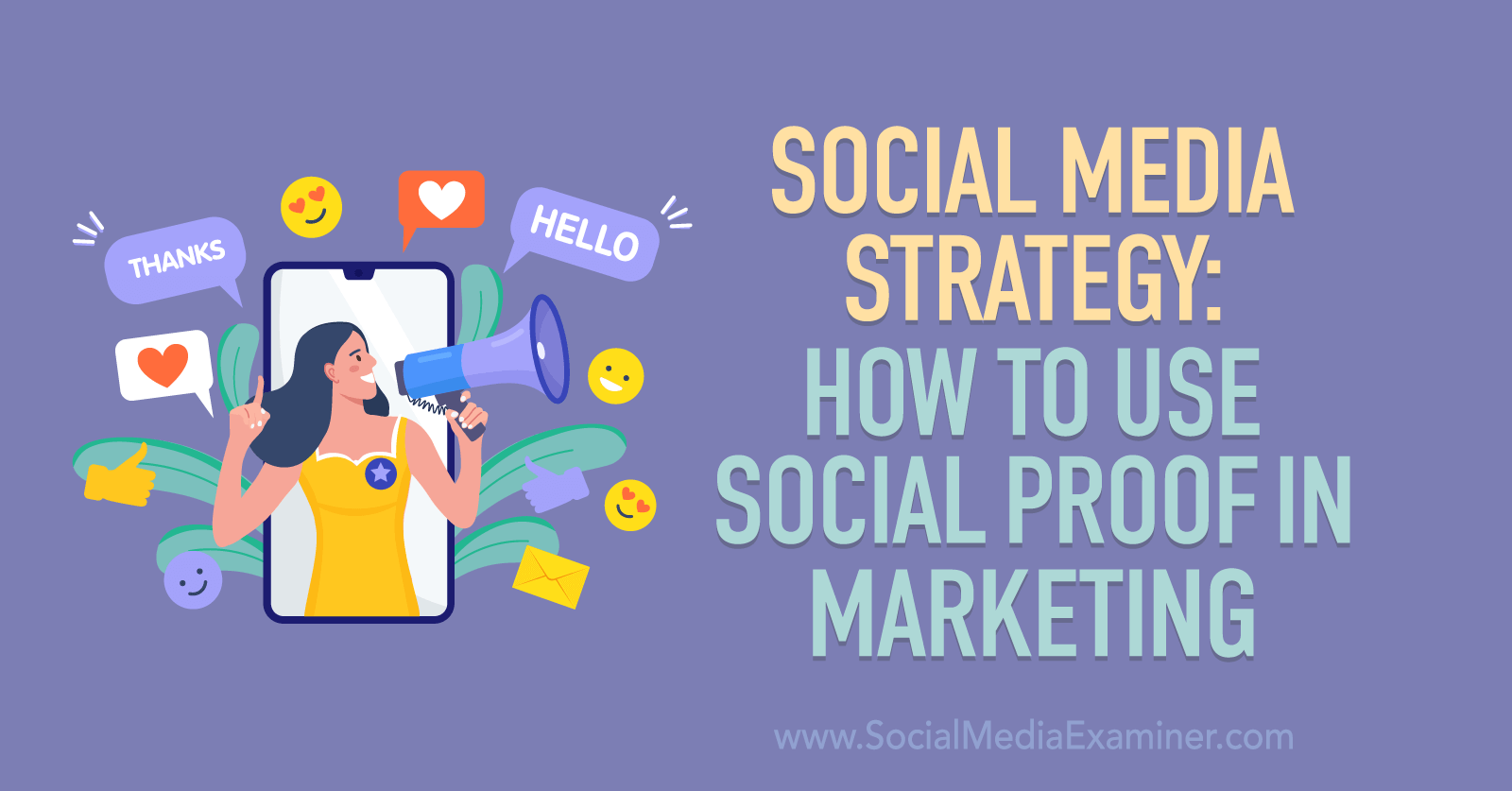 Source: Social Media Examiner
Social Proof Can Make a Difference in Your Marketing
Social proof highlights everything wonderful about your brand—typically from the point of view of third parties.
What is social proof? Social proof can be an image of your product in use, a quote from someone who purchased your service, or an award from a trusted organization. It can come from customers, industry establishments, press outlets, and many other sources.
No matter how it looks or who provides it, social proof has the power to convince other potential customers to buy from your business. Here's why:
It builds trust. Social proof confirms that other people, businesses, and credible industry figures have used and gotten value from your products or services.
It creates a fear of missing out (FOMO). Social proof that shares impressive numbers of customers or users encourages more new customers to get on board.
It establishes authority. Social proof that comes from trusted industry sources can help you position your brand at the top of its niche.
Perhaps most importantly, social proof offers an alternative to branded content, which is another key component of a well-rounded social media strategy. Do a lot of your social media posts tell followers about your story, mission, and products or services, all from the point of view of your brand?
Even if your brand is highly trusted and well-loved, branded content always sounds at least a little like a sponsored message. Social proof welcomes other voices to the mix, helping your social profiles sound more authentic and less like an advertisement.
To illustrate, the @bigcommerce Instagram post below tells the story of a customer's experience with the eCommerce platform. The story features quotes from the customer, allowing her to speak directly about her challenges, goals, and takeaways.

Source: Social Media Examiner
#1: 5 Types of Social Proof to Use in a Social Media Marketing Strategy
Want to make sure you're focusing on the most effective types of social proof? Let's look at five kinds to include in your social media marketing.
Social Proof: Case Studies
Sometimes the best social proof comes from a partnership between your brand and your customers. With customer stories and case studies, you get the opportunity to share your customers' experiences with your business while also weaving in your brand's story.
Case studies and customer stories tend to be much more in-depth than other types of social proof. That means they're often best for targeting people at the middle of your marketing funnel and guiding them toward a conversion.
Visualizing this, the @Airtable LinkedIn post below highlights a customer story. The post uses a customer quote to capture attention and quickly convey the impact of the collaborative platform. Then it links out to the full story on the brand's website.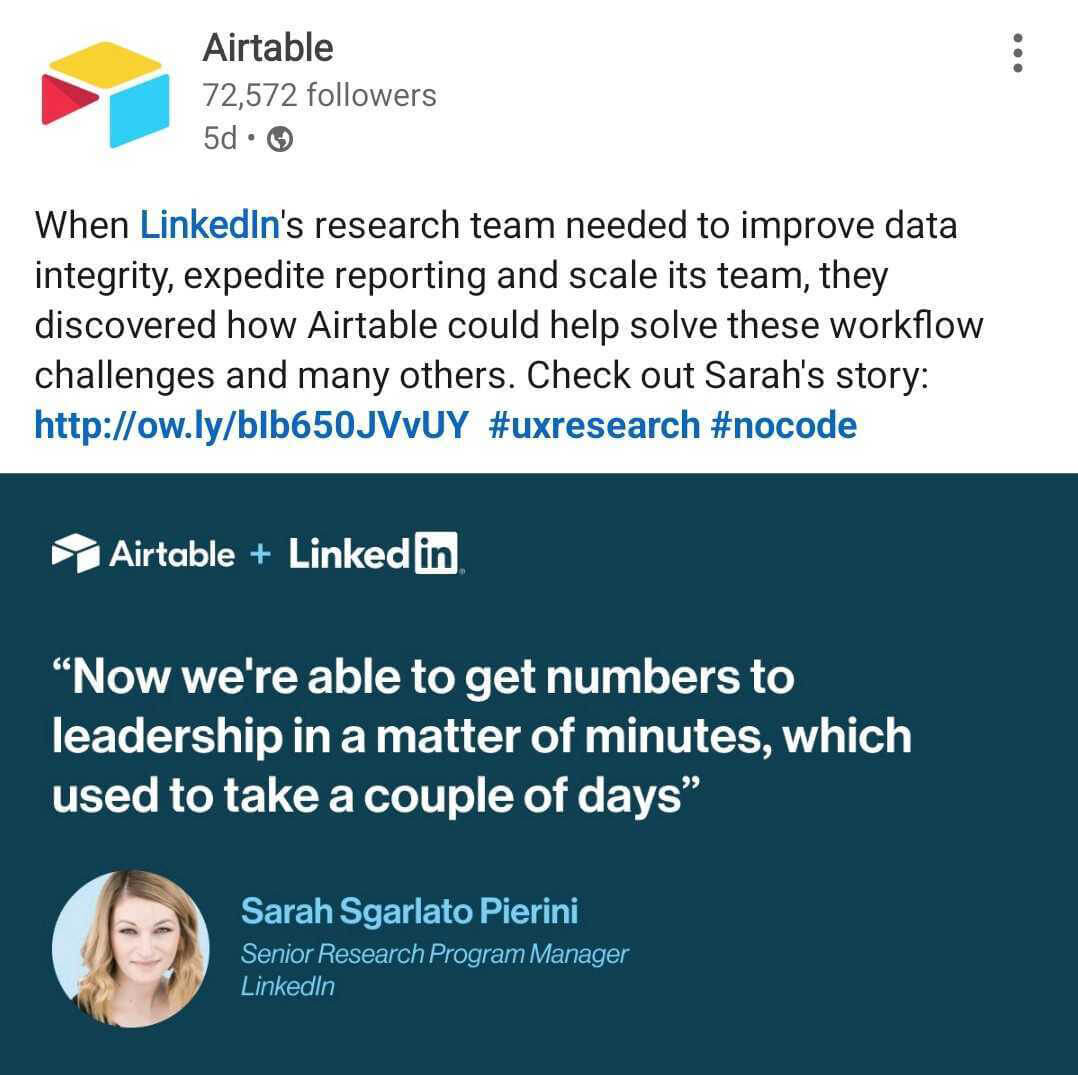 Source: Social Media Examiner
Social Proof: Customer Reviews and Testimonials
Does your business have a lot of happy customers? Their reviews and testimonials can resonate with your target audience in a way that branded content can't. Testimonials often detail specific problems and challenges that other prospects can relate to and offer solutions that inspire potential customers to take action.
Social Proof: User-Generated Content
Social proof isn't limited to written or spoken statements. It can also include customer-created photos and videos of your products and services. User-generated content (UGC) gives potential customers a firsthand look at how your products and services actually work.
By sharing UGC to your brand's social media accounts, you can give followers a customer's perspective on your products and services. You can also build relationships with the customers who produce UGC, which can lead to increased loyalty.
Social Proof: Accolades and Awards
Customers aren't the only sources of social proof. Did your brand win a major industry award? Were you featured by a local press outlet? Accolades and awards from official sources can provide social proof that's just as effective.
For instance the Loom LinkedIn post below highlights an award the video messaging app received. Because it comes from a respected site for software reviews, the G2 award provides plenty of social proof on its own. Yet the post also links to Loom's full G2 listing, which has hundreds of customer reviews that provide tons more social proof.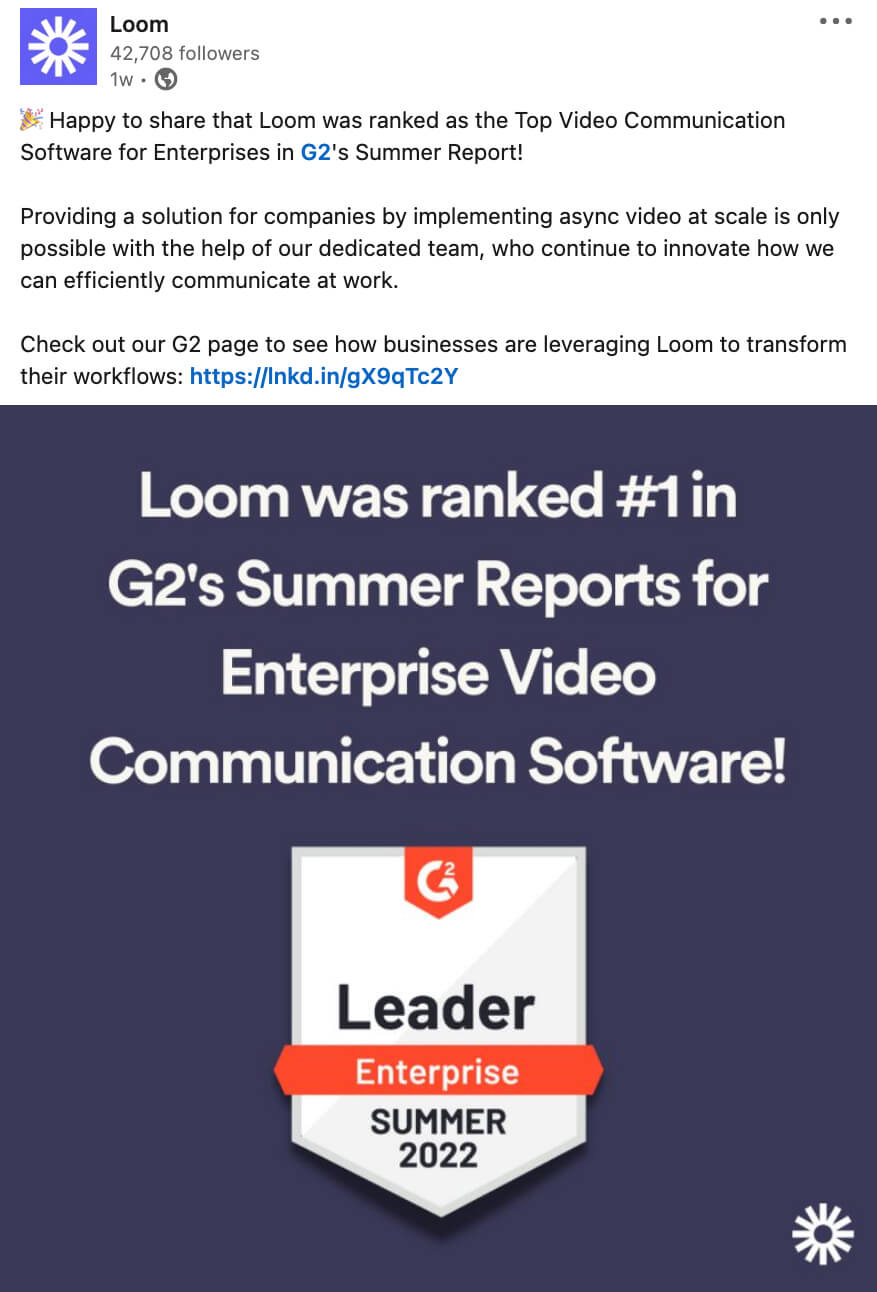 Source: Social Media Examiner
Social Proof: Satisfied Customers Milestones
Does your company have 100, 1,000, or 10,000 happy customers? Sharing milestones like these can create FOMO that prompts prospects to buy. After all, if 10,000 customers just like them have already made a purchase, prospects can reasonably assume that it's the right choice for them. too.
#2: How to Generate Social Proof From Your Customers
In some cases, social proof lands in your inbox. But in other cases, you need a strategy for generating it consistently.
Do you want to encourage customers to create UGC that you can reshare?
Add either a branded or a campaign hashtag to your social media bios, along with a call to action inviting customers to add it to their content. Then follow the hashtag or check it regularly to see and respond to all the great UGC.
Now, let's look at where to find this type of content and how to choose what to use.
#3: How to Find Social Proof
Start by checking your email inbox for awards, accolades, and press features. Then use the strategies below to find examples on social media.
Search Mentions and Tags for Social Proof
When customers talk about their experience with your brand or share content that features your products, they typically mention or tag your business. On platforms like Twitter, you can find mentions in your notifications feed. But on platforms like Facebook and Instagram, you can find them in a dedicated feed.
To find social proof on Facebook, open Meta Business Suite and go to the Content tab. Select Mentions & Tags to see all of the posts that mention or tag your business on Facebook and Instagram. In the Instagram app, you can also go directly to the rightmost tab on your profile to see all posts that have tagged your account.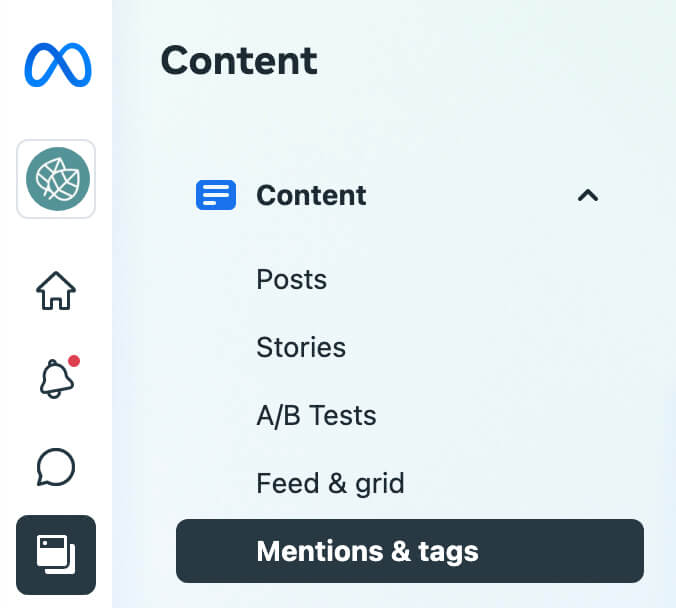 Source: Social Media Examiner
Search Hashtags for Social Proof
Instead of tagging your business on social media, some customers may add your branded hashtag instead. To avoid missing these posts, make a point of searching for branded hashtags on a daily or weekly basis.
Search Social Platforms and Online Review Sites for Social Proof
Although most social media platforms don't support reviews, Facebook can be a great source of customer testimonials. Make a point of checking the Reviews tab for your Facebook page to find reviews from real customers to share.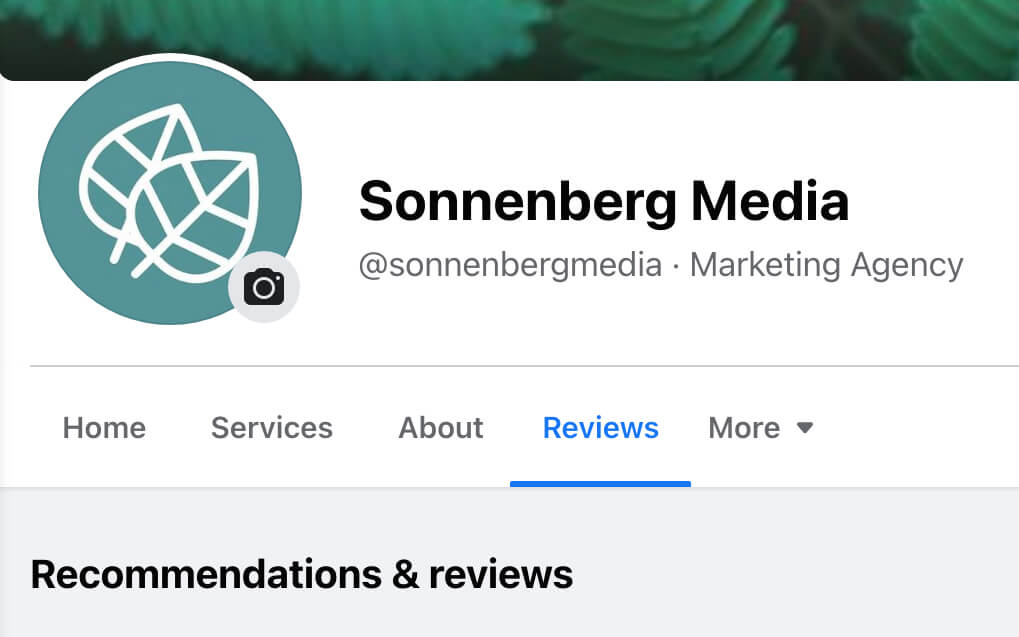 Source: Social Media Examiner
#4: How to Choose Social Proof to Use in Marketing
Even if all of your tags, mentions, and reviews are positive, they aren't always suitable for social proof. When choosing social proof, keep your social media strategy in mind. Then plan to share the examples that align with your goals. For instance, you may want to:
Build trust among potential customers. Press features, major awards, and acquisition milestones (i.e., 1,000 happy customers) tend to work best for this goal.
Explain a use case you recently discovered. Rather than telling prospects how to get value from your product, have your customers rave about it in their own words.
Demonstrate that your product is better than your competitor's version. Your branded content may come across as biased but a customer-created comparison is likely to appear much more credible.
Show how your service solves a common problem. Explanations in your customers' own words are great, and customer-created video walkthroughs are even better.
It's also a good idea to review the quality and sentiment of any social proof you plan to share. While you can't expect professional-quality content from customers, make sure that the quality of your UGC doesn't compromise the message. You should also double-check that customers' comments or opinions don't appear scripted, which can make them seem fake.
#5: How to Legally Use UGC as Social Proof
Once you find UGC that you want to repost, you can use in-app features to share across the original social media network. Say you've found some UGC that you want to repost on the Mentions & Tags tab in Business Suite. You can click the Share button to share the original post and add your own commentary.
But what if you want to add the UGC to a completely new post or share it to another social media platform? You should always request and confirm permission from the creator, even if the content comes from a public post. In most cases, it's easiest to request permission by leaving a comment on the original post or messaging the creator directly.
#6: How to Use Social Proof in Social Media Marketing
What's the best way to incorporate social proof into your social media marketing? Let's look at options for using social proof in your brand's organic posts.
How to Use Social Proof in Organic Instagram Content
You could remix your customers' reels or get creators' permission to share their content in your Instagram feed. But if you don't want to compromise your feed's aesthetic, sharing customers' posts to your stories is a great way to showcase social proof.
When you share posts and reels to Stories, Instagram automatically links to the original content. But you can add a mention sticker to show customers extra appreciation. You can also share your favorite UGC to a highlight so prospects can browse all of your social proof.
For example, @ftlofshop has a Customers highlight featuring more than a dozen customer posts. Each post includes UGC that offers styling ideas and many also include short reviews of the design shop.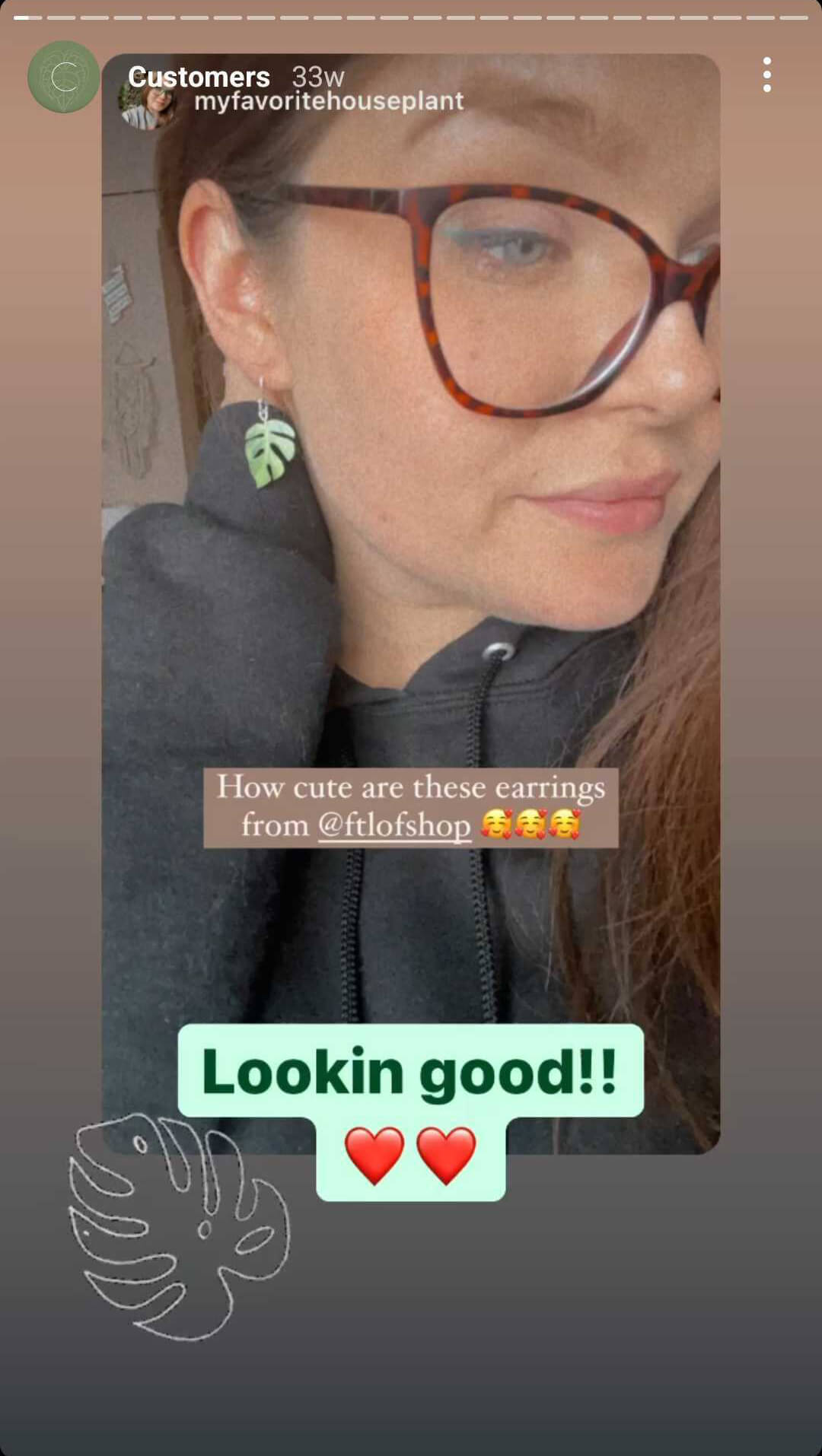 Source: Social Media Examiner
How to Use Social Proof in Organic Facebook Content
With Facebook, you can tell longer stories by linking out to UGC on another platform or to a customer story on your website. To get followers to click through, make sure your Facebook copy has a hook.
It's helpful to highlight the problem the featured customer was struggling with or the solution they found. Prospects working through the same challenges may feel compelled to click through and learn how your brand can help.
To illustrate, the @clickupprojectmanagement Facebook post below teases a common problem for busy professionals: "overflowing inboxes and endless spreadsheets." Then it encourages followers to read a customer story detailing how an agency head solved these problems with the brand's project management software.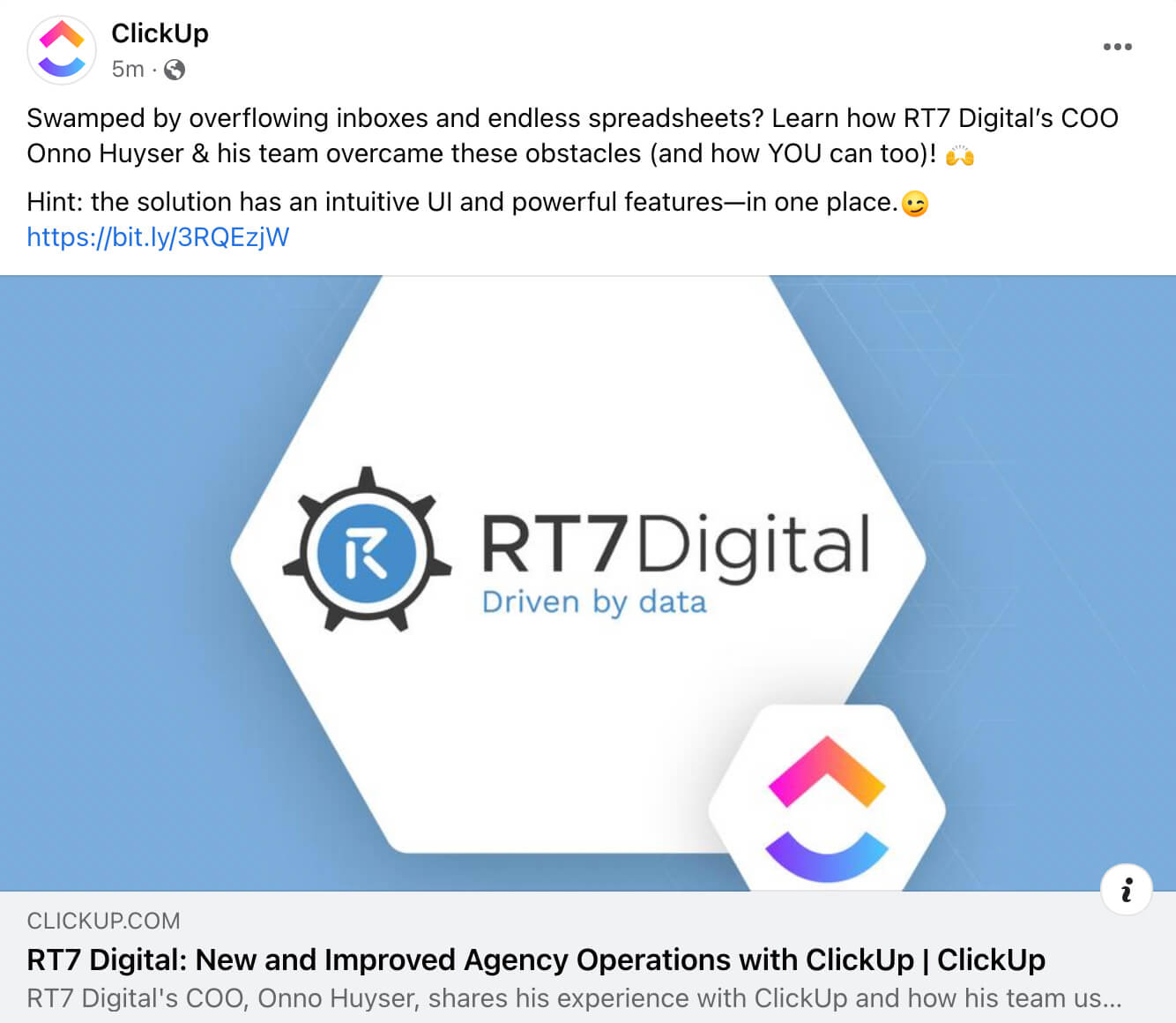 Source: Social Media Examiner
How to Use Social Proof in Organic LinkedIn Content
LinkedIn's sharing options are much more robust than either Facebook or Instagram, making the professional social media network the ideal place to share content natively. Whether an individual customer or a business mentions your brand on LinkedIn, you can engage as your company page. Under the post, click the arrow next to your profile picture to switch to your company page.
Then click the Share button to see your options. You can repost the testimonial or UGC to your company page instantly without comment or you can create a new post that quotes the original content. When you opt to share rather than repost, you can thank the customer, clarify the context, or add insights about the featured product or service.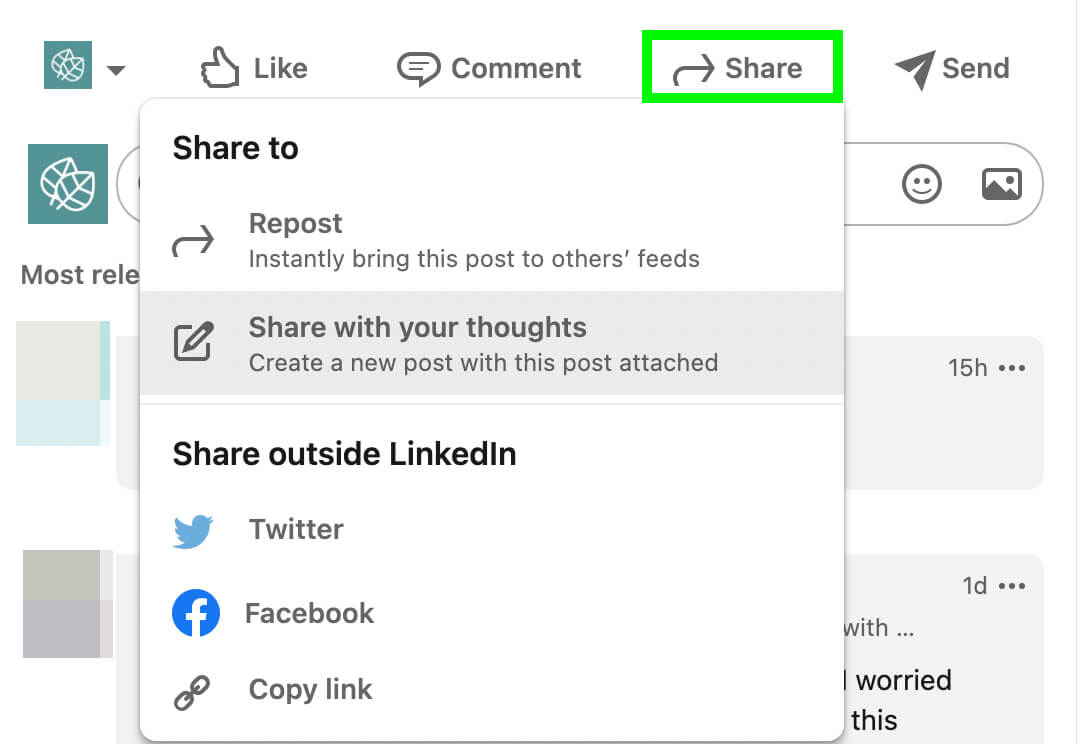 Source: Social Media Examiner
How to Use Social Proof in Organic TikTok Content
TikTok gives brands a long list of options for sharing social proof across the platform. If the creator gives you permission to share the content, you can download the video and publish it to your brand's account. For example, the @proactiv video below highlights UGC featuring a product walkthrough by a mother-daughter duo.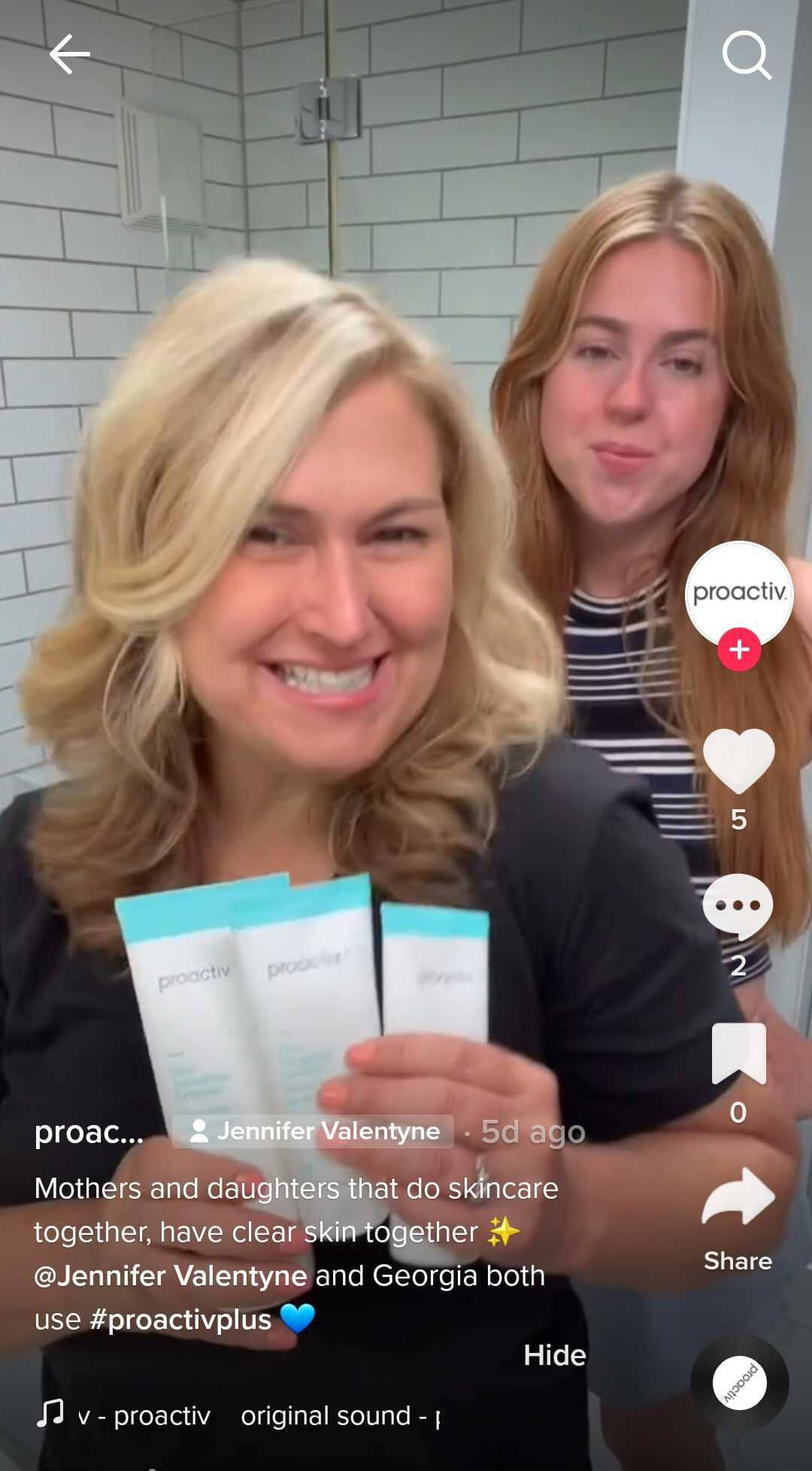 Source: Social Media Examiner
Alternatively, you can Duet with the original video, creating a side-by-side reaction or response to the content. You can also Stitch the original video, which essentially lets you sample the content in your own video. TikTok automatically tags the original creator when you publish so giving credit is easy.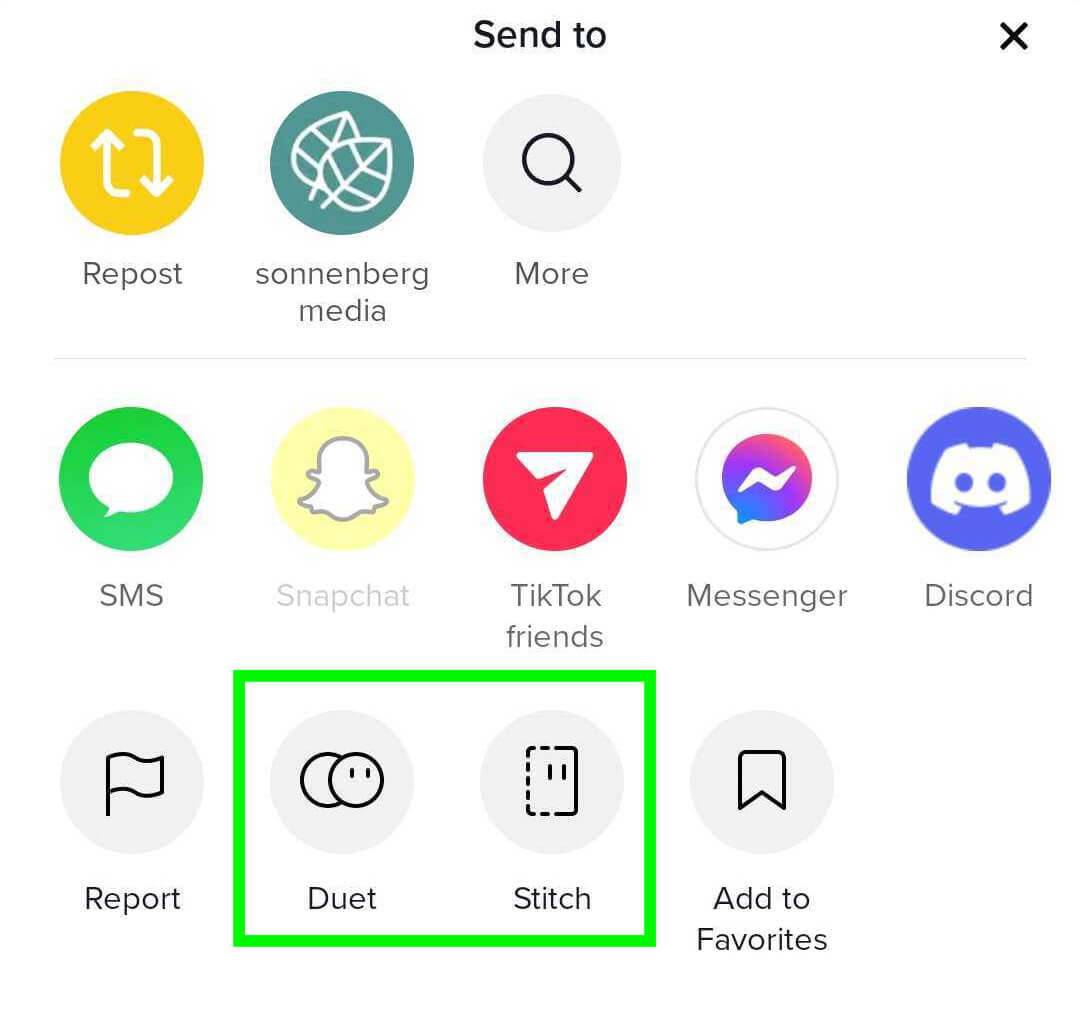 Source: Social Media Examiner
If you'd rather share the content as-is, you can also repost the video on TikTok. But beware that although reposts may appear on the For You page for people who follow you, they don't display on your account. So if you want followers to see UGC on your profile, Duet, Stitch, or upload directly instead.
How to Use Social Proof in Organic Twitter Content
When you want to share a customer's testimonial or UGC directly to your timeline, a quote tweet is your best bet. With a quote tweet, you can automatically credit the creator while adding your brand's take.
But sometimes it's helpful to get a little more creative with social proof. In the tweet below, @evernote mentions @NASA, a user that lends significant credibility. Instead of sharing UGC created by the space agency, the brand repurposes one of @NASA's recent photos and uses its own note-taking app to add annotations as a way of referencing the agency's usage.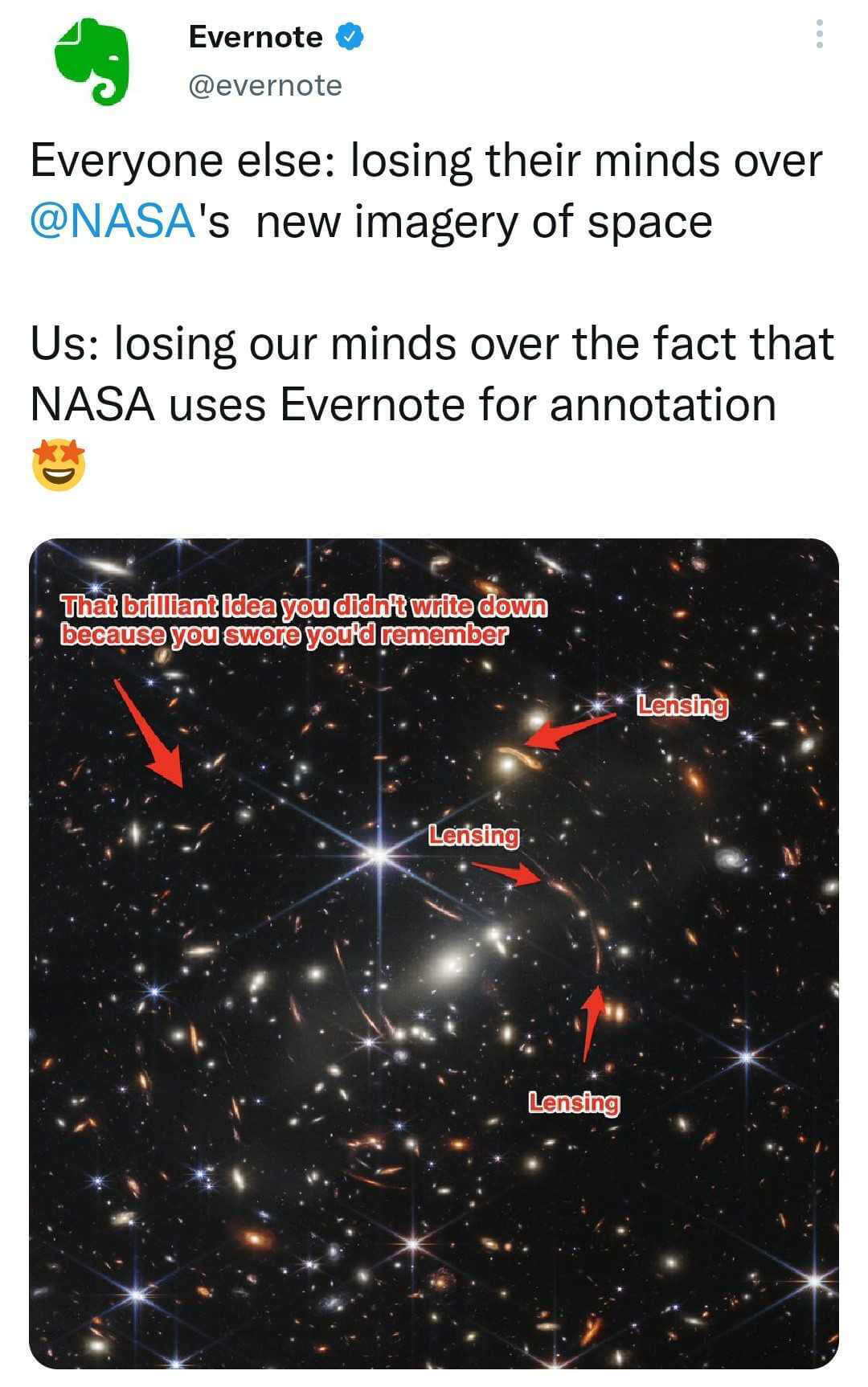 Source: Social Media Examiner
How to Use Social Proof in Organic YouTube Content
Like TikTok, YouTube also offers multiple options for repurposing UGC efficiently. You can tap the Create button to cut the audio or video from UGC and incorporate it into your own original content. Alternatively, you can tap the Clip button to create clips from UGC and share them across other social media platforms.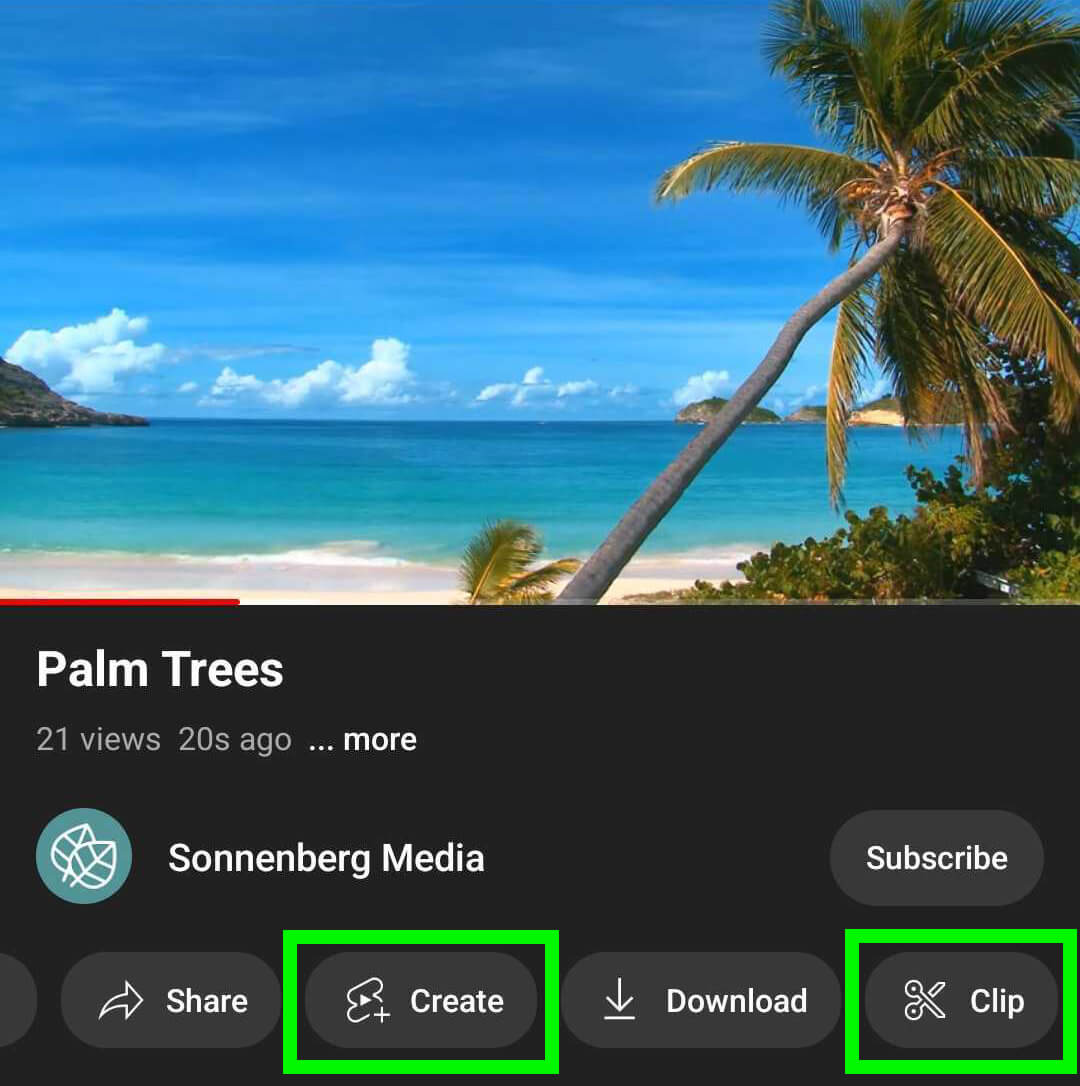 Source: Social Media Examiner
But sharing UGC directly to your brand's YouTube channel requires a different approach. For instance, GoPro sources UGC by encouraging users to submit content for GoPro Awards. Winners like the creator highlighted in the video below receive an award, a cash prize, and a feature on the GoPro YouTube channel.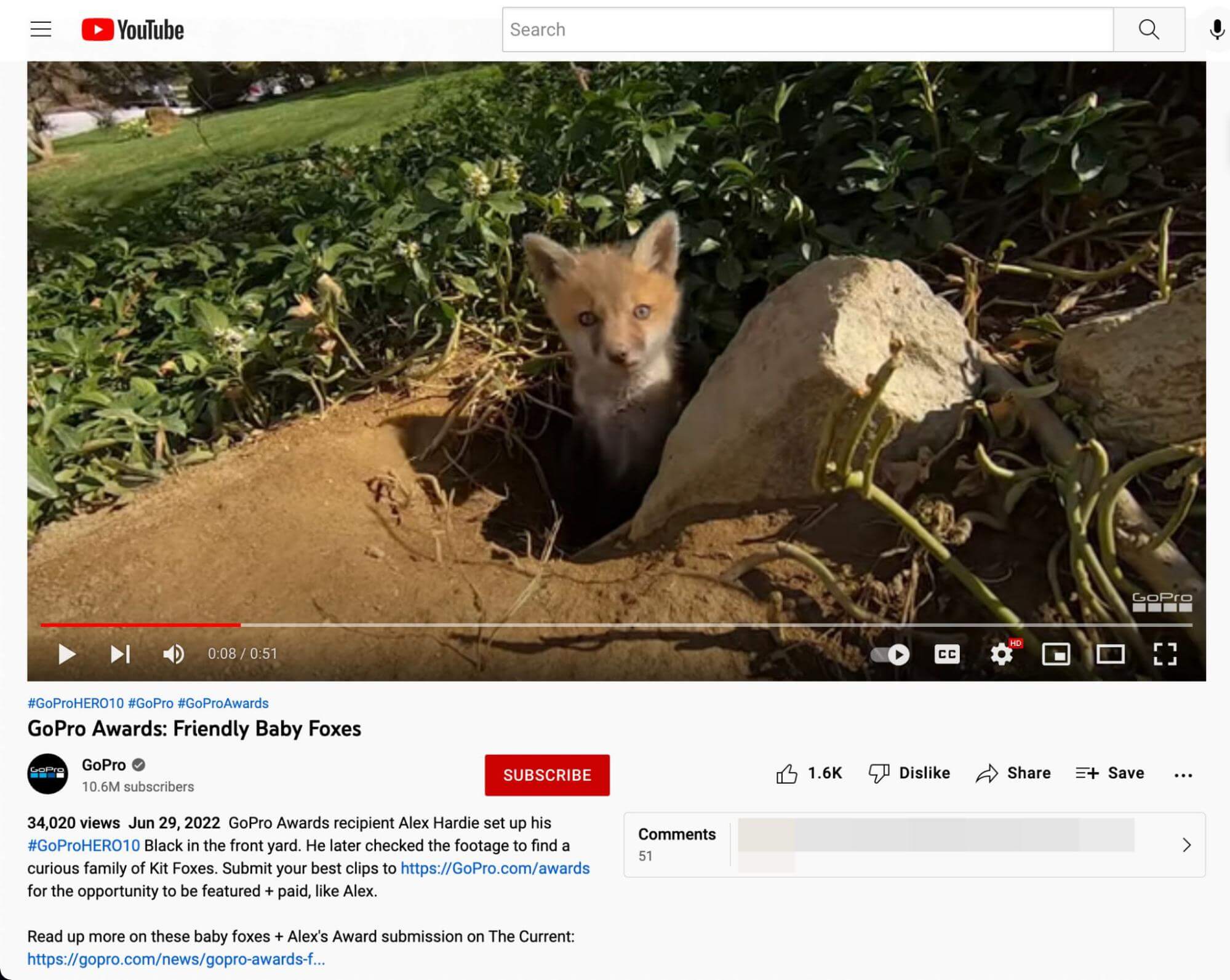 Source: Social Media Examiner
Conclusion
Sharing social proof can add much-needed authenticity and a fresh perspective to your brand's social media content. With these tips, you can ensure that you're sourcing social proof correctly and using it effectively in your organic social media marketing.
Get More Advice on Social Proof and Marketing Strategies:
Originally published on Social Media Examiner.