How To Establish Two Way Communication With Your Audience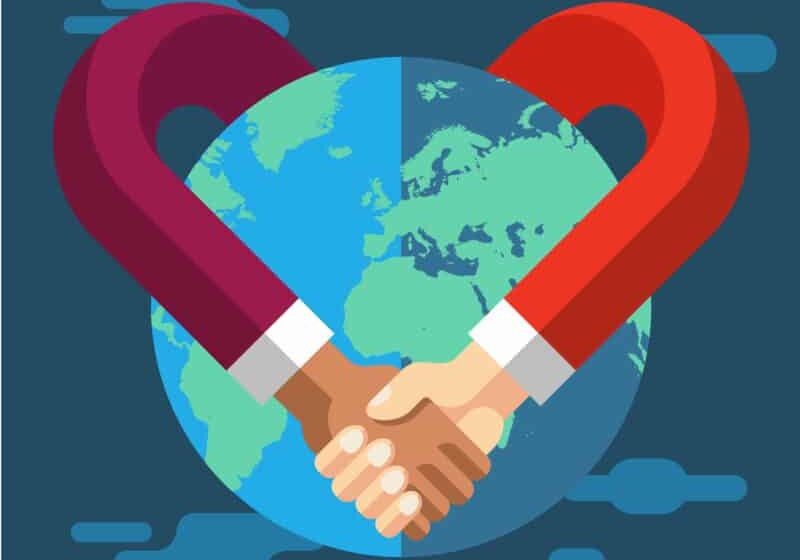 By Prebuilt Sites Team
February 16, 2022
EDITOR'S NOTE: Back before the internet and social media came to be so prominent, traditional advertising methods only allowed for one-way communication between customers. When companies switched from marketing on billboards to marketing on social media, it allowed customers to share their feedback to the company through blog post comments, social media messages, and online review forums. Companies that welcomed this feedback and tweaked their strategies accordingly were able to get to know their customers' wants and needs better, create trust with them, and in turn improve sales. If you have any questions about how to establish two way communication with your customers or want us to handle it for you, reach out to us at Prebuilt Sites or the BBS Agency. We'd love to help you out!
There is a lot of value in creating two-way relationships with your audiences. Not only does it allow you to gain valuable feedback on your content, but it allows you to build stronger, long-lasting relationships with your customers and prospects.
One of the biggest problems that many brands face in their digital marketing programs is the silo effect. 
The silo effect refers to the lack of communication and sharing of information across different groups. 
Whether it's because of inefficient tools, poor departmental practices, or other barriers, when there isn't clear communication, the business suffers. 
While the silo effect usually refers to internal difficulties, there are also blind areas when it comes to communication between your prospects and customers and the brand.
In order to get the most out of your relationships with your audiences, you need to establish clear two-way communication. 
But what exactly is two-way communication with customers?
How does it apply to digital marketing? 
And how do you enable it in your channels?
In this article, we'll discuss everything you need to know about two-way communication, how to create it online, and why content marketing is the number one way to build two-way communication with your audiences.
What is a Two-Way Communication Process in Digital Marketing?
Advantages of Two-Way Communication
Disadvantages of Two-Way Communication
Why Do Companies Need to Enable Two-Way Communication Online?
How to Start Two-Way Communication Through Content Marketing
Examples of How Interactive Content Masters Two-Way Communication
Wrap Up
What is a Two-Way Communication Process in Digital Marketing?
Two-way communication refers to the process of exchanging information, messages, and other forms of communication between multiple sources.
In a two-way communication process, the recipient and sender are constantly changing roles, allowing for a conversation to take place.
Two-way communication in a digital marketing context means that there is clear dialogue taking place between a brand and its followers, customers, or leads. 
When you establish two-way communication on multiple channels in your digital marketing strategies, you are able to get many benefits that you would otherwise miss out on.
Communication in Traditional Marketing vs. Digital Marketing
In traditional marketing, all communication was one-way. 
A brand would send out a message in a print ad, television ad, billboard, or mail message and would never expect any type of direct reply. 
That meant that it was very hard for brands to get any type of direct feedback and led to a lack of information. 
In contrast, digital marketing allows many different channels where two-way communication is possible. 
Social media, for example, is a great example of how brands and customers can receive information and messages and start a conversation that is open and readily available. 
However, there are some positives and negatives to two-way communication.
Advantages of Two-Way Communication
Two-way communication provides several benefits for brands, including: 
Creating more trust and transparency
When a brand establishes strong two-way communication, it allows prospects to know that the brand wants to hear feedback and start conversations with their customers. 
That fosters a strong sense of trust in a company.
Avoiding crises
Many brands live in fear of a scandal or crisis that is then promoted and shared across digital channels. 
When there is already established two-way communication in place, brands can learn about issues, make a plan, and prove their dedication to fixing issues much faster.
Making a brand seem more human
When a brand doesn't appear to have any human influence, it can be hard to trust or work with them. 
Communication helps to establish the fact that there are people working for a brand, which humanizes the company.
Improving sales
It follows that when a brand accepts feedback from customers, they are able to make changes and improve their products, services, and experiences. 
That translates directly into sales and increased revenue.
Getting to know customers better
When you can create dialogues with your customers, you get a better understanding of who they are, what they value, what they expect from your brand, and the concerns that they have. 
Not only is this feedback important, but it can help you optimize your messaging and marketing approaches.
Letting your customers know they are heard
Everyone wants to know that their opinion matters and that someone is listening. 
When you can provide your customers with that comfort and certainty, they feel valued and respected by your brand. That increases trust, sales, and your online reputation.
Disadvantages of Two-Way Communication
While there are many benefits of strong two-way communication with your customers and leads, there are a few drawbacks that you need to be aware of, including:
Requiring high levels of commitment to communication
When you establish two-way communication, you can't then limit your availability to listen to customers. 
You need to be able to manage the amount of incoming communication you have and be consistently able to reply and engage with your audiences. 
Otherwise, you risk damaging your brand image.
Balancing between your brand's voice and your customers
Replying constantly to customers requires you to maintain a professional voice that matches up with your brand's values and messaging constantly, which can make it hard to outsource replies and communication tasks.
Risking negative feedback
Two-way communication isn't limited to only positive interactions. 
When you establish channels for two-way communication, you need to be aware that not every message will be positive and that you will receive negative comments and conversations. 
While there are some disadvantages to two-way communication, the positives largely outweigh the potential negative consequences. 
That means that companies should plan on investing in and optimizing their two-way communication tactics.
Why Do Companies Need to Enable Two-Way Communication Online?
Whether you are aware of it or not, your brand is already involved in two-way communication. 
While you might not have dedicated channels for fostering two-way communication like feedback surveys or comments sections on blog posts, there are still areas online where feedback is allowed. 
Online users have much more autonomy to express their preferences and opinions than before the era of the Internet. 
As the Internet has continued to expand, more and more areas where two-way communication is allowed have developed. 
Rather than brands being the sole senders of messages through marketing and sales communication, customers are also able to have arenas for expressing opinions.
Arenas for Communication
One of the biggest avenues for communication is social media. 
Customers and prospects are able to message your brand directly, share their opinions and thoughts on your brand on their own profiles, and meet others who have used or follow your brand. 
Even if you have private profiles, customers can still tag your name or hashtag your products.
Another area of communication that brands can't stop is reviews. 
Whether on platforms like Google or on dedicated review sites like Yelp or Foursquare, customers are able to give their feedback whether a brand wants it or not.
Enabling Two-Way Communication
As mentioned above, the rise of digital and inbound marketing has allowed customers to be able to express their opinions in more ways than ever before. 
There's no real way for any brand to completely shut down channels of two-way communication, especially not if they want to be seen as a trusted and respected brand. 
That means that opening up channels of communication is essential in order to bring in more feedback, build better relationships, and improve your online reputation. 
When you foster channels of communication with your audiences, whether they are previous customers, interested leads, or even strangers to your brand, you can bring about many important benefits and improve your relationships.
How to Start Two-Way Communication Through Content Marketing
Starting two-way communication doesn't need to be an overly elaborate process. 
By just taking a few simple steps to open up channels of communication, you can start gathering feedback that can be used to improve your strategies and processes. 
Content marketing is a great way to start two-way communication between your brand and your customers as it already requires a level of dedication from both parties. 
Content marketing is already sending a message, so allowing it to receive a message at the same time is an easy step to take.
1. Blog Post Comments
Your blog posts are one of the most common and consistent sources of communication you send out to your audiences. 
When you allow your audiences to leave their thoughts and comments on a blog post, you can foster two-way communication that centers around topics already related to your industry and brand.
2. Interactive Experiences
Interactive experiences like quizzes, assessments and calculators are incredibly efficient methods of establishing two-way communication. 
Because interactive experiences already require a certain level of engagement from your audiences, they are in a certain mindset that makes them more willing to give feedback and messages to your brand.
3. Feedback Surveys
Sometimes, gathering feedback can require a specific end goal. 
When you send out a feedback survey, you aren't just allowing two-way communication but are encouraging your customers to give their opinions. 
Sending one after a conversion or other activity can help encourage your audiences to respond to the survey.
4. Social Media
As mentioned earlier, social media is one of the best places to foster two-way communication between your audiences and your brand. 
While communication on social media can require a significant time commitment, brands that do well on social media find much higher levels of success in other areas of the business. 
Tactics that can help you get started include replying as promptly as possible, keeping your direct messages open, and looking for opportunities to begin your own conversations without waiting for your customers and prospects to come to you.
5. Online Reviews
Reviews are not only a way for your customers to give their honest feedback about your brand but are also one of the biggest influencers when it comes to new leads and prospects choosing your business.
If you have a large number of negative reviews, it can severely damage your chances of gaining new business. 
You should never delete negative reviews, but instead use them as opportunities for two-way communication by apologizing, addressing the issue, and providing a clear solution. 
That way, even if you have a negative review, your new audiences can see that you proactively work towards improving the situation.
Examples of How Interactive Content Masters Two-Way Communication
Interactive content is one of the best ways to begin fostering two-way communication. 
Your audiences are already engaged with your content and are actively making choices, whether it's searching on an interactive map, answering questions in a quiz, or testing their own skills in an assessment. 
Here are three different examples of how brands have mastered two-way communication in their interactive content.
The Chicago Council
The Chicago Council has used interactive content in the form of infographics that have embedded social icons that allow users to share statistics and start conversations regarding their topics on their social media accounts. 
This not only helps spread the word about the activities that matter but encourages two-way communication between the brand and customers. 
Sears
Sears created a quiz that tests common myths about washing machines and washing products that users can take to test their knowledge. 
Not only is the quiz informative, but after taking it, users are allowed to share the link, encouraging two-way communication while also promoting their products. 
UBM Geek's Guide
This interactive guide to London allows users to view different major landmarks along with providing information on the attractions, best times to visit, and the ways to get to the destination. 
This provides a fun way to explore options while also providing opportunities for social sharing to bring more people to the guide. 
Wrap Up
Two-way communication allows you to build stronger relationships with your customers, prospects and leads. 
It also helps you gain valuable feedback that can help you improve your digital marketing strategies. 
While there are many different channels that can help you with your two-way communication, content marketing provides the best examples to help you understand user behavior. 
Comprehending the reasoning behind the choices your audiences make is essential to improving your communication and outreach strategies with customers. 
If you want to learn more about understanding audience behavior, then check out our resource on collecting first-party data. 
You'll learn how to create assertive marketing strategies and improve the customer experience with unique resources!
Originally posted on Rock Content.

Prebuilt Sites Team
Prebuilt Sites are the perfect medium between a DIY solution and a custom built website. We handle all of the tech, so you can concentrate on running your business. We are happy to help if you have any questions or need assistance our USA based support team can be reached via our
Contact page