A Step By Step Guide To Creating Content For Your Website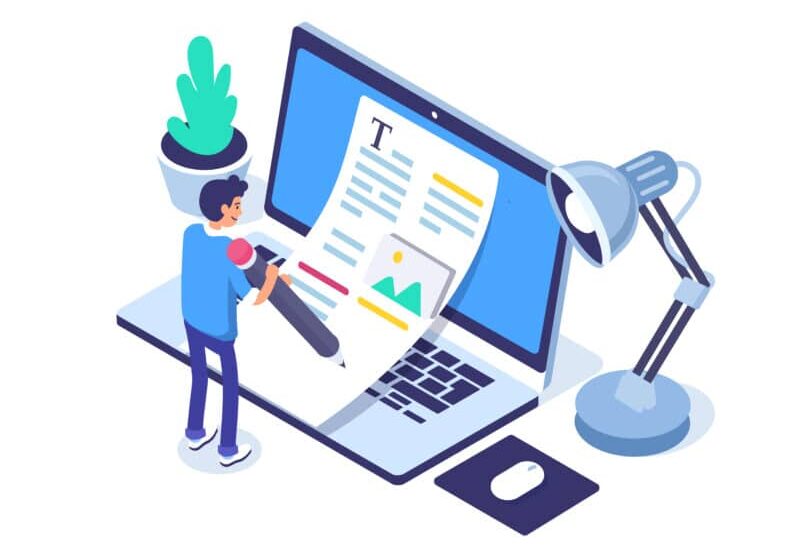 By Prebuilt Sites Team
November 26, 2021
EDITOR'S NOTE: Creating good content is essential in driving traffic and conversions to your website, but it's not as easy as slapping words on a page. Good content contains a successful SEO strategy full of well-researched topics and keywords, targets a specific audience, and is unique from the competition. Good keyword research helps you discover the terms, phrases, and questions that are important to your users and your business goals. You can find good keywords by inputting your topic into SEM Rush's research tools and finding related keywords. Once you know what you want to write about, it's important to scope out the competition. This will help you create content that will rank more while providing a unique perspective that Google's users won't find on other sites. When writing the content it's important to keep your target audience in mind and make sure it captures their attention by having a compelling headline, short and to the point paragraphs, and a strong call to action. Make sure to analyze your content and always keep improving!
Content creation is a pillar of a successful SEO strategy. It's also important because it's one of the few elements of your SEO strategy you have direct control over. 
With proper strategy and insight, it can be a fun, illuminating process for you and your team. But if you're new to content creation, try our guide below (complete with our content tools): 
Start with Keyword Research
One of the first things you should do when starting any SEO campaign is your keyword research. Good keyword research helps you discover the terms, phrases, and questions that are important to your users and your business goals.
Keyword research is your best first step for creating effective content that ranks with ease and drives traffic.
There's no one way to conduct keyword research. You can research your competitors' content or even search for keyword gaps in the market. Whatever your methods, keep track of your potential keywords in a spreadsheet or with a keyword research tool.
The Keyword Magic Tool uses a database of over 20 billion keywords to find and organize relevant keywords.
Start by inputting your seed keyword and target country: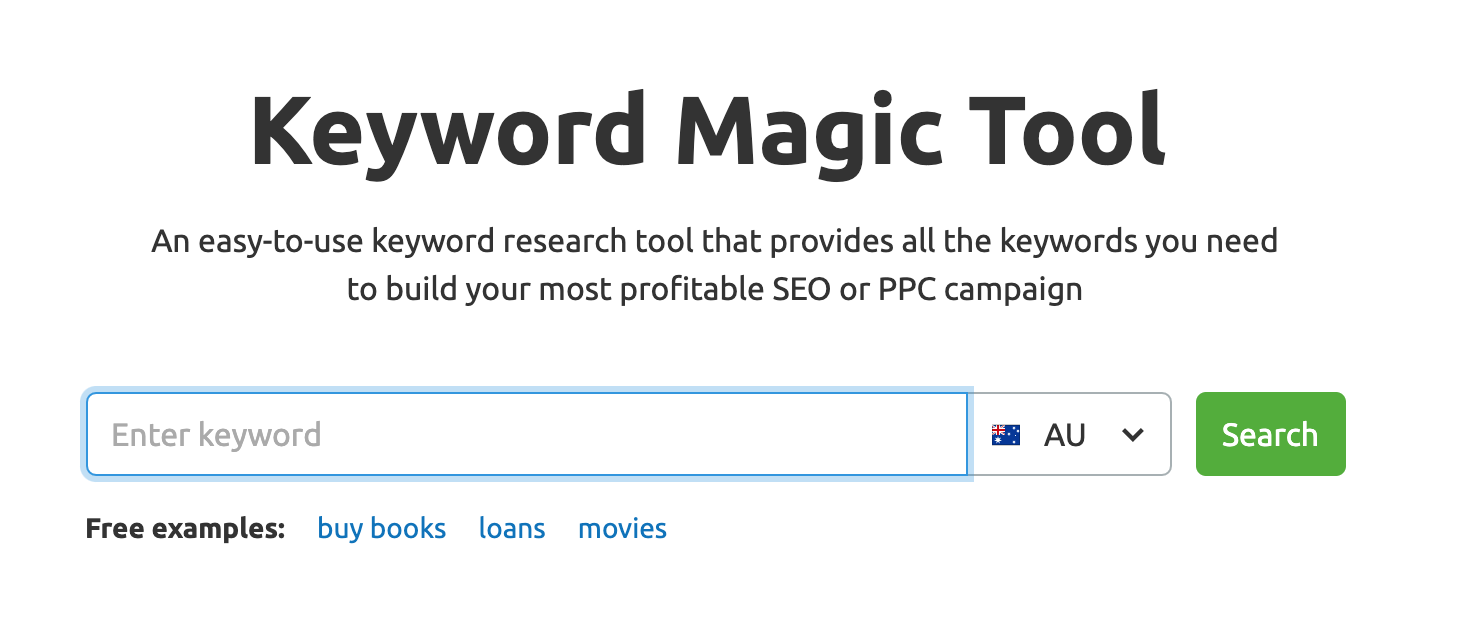 Photo: SEM Rush
The tool returns a list of suggested keywords and their search volume, trends, KD percentage, cost-per-click (CPC) fees, competitive density, SERPs, and the number of URLs displayed in organic search results for that keyword ("results"):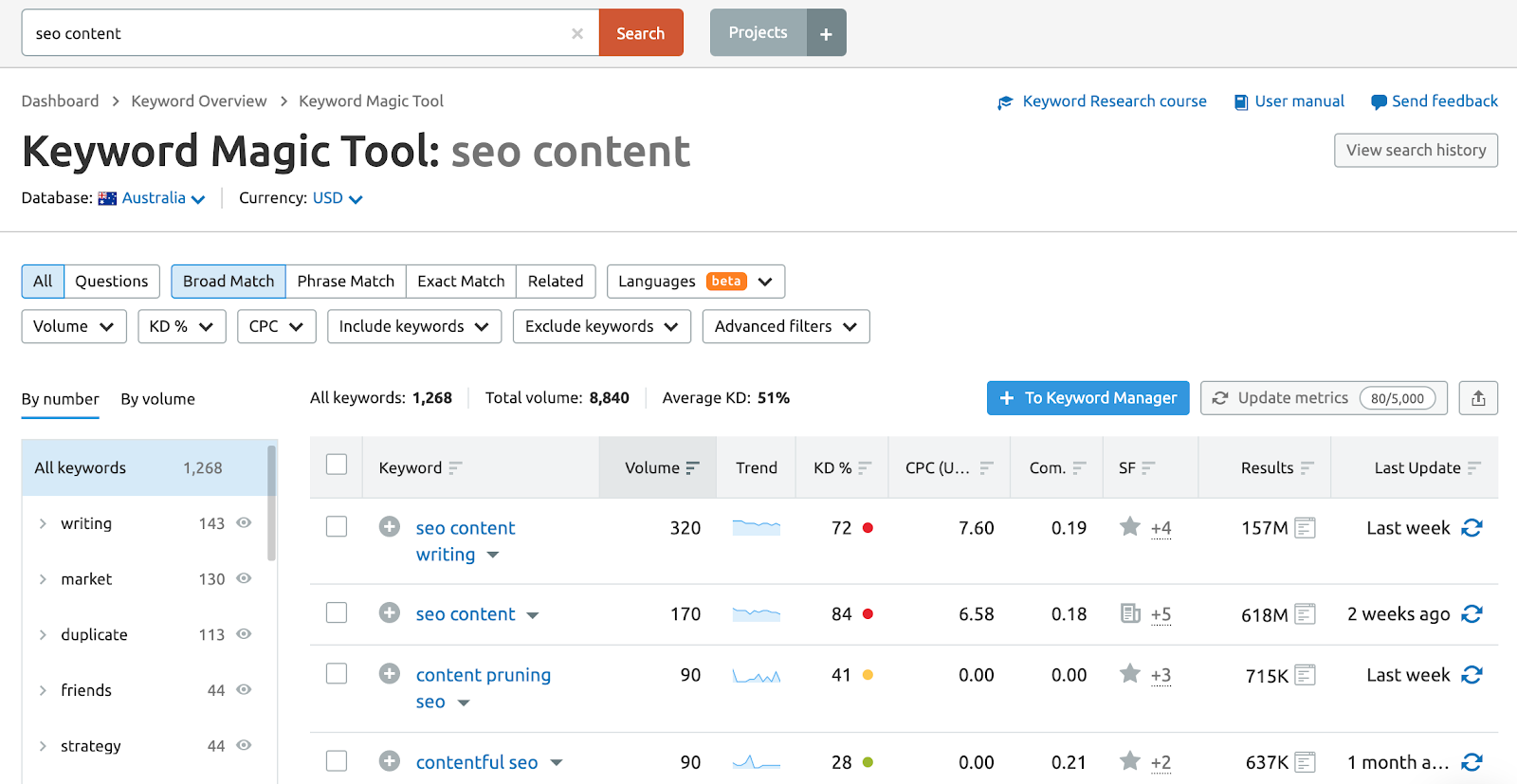 Photo: SEM Rush
Set Match Modifiers
Match modifiers are terms you can use for a more specific and targeted result for your keyword research. Broad matches show you all keyword ideas for your seed keyword. A phrase match returns the results of your seed keyword but in a different order.
Photo: SEM Rush
Filter for Questions
Search for your seed keyword in question form with this feature. You can create content that answers the questions posed here to earn a better rank or a featured snippet. 

Photo: SEM Rush
Add Keywords to Keyword Manager
Add potential keywords to the Keyword Manager by selecting the + symbol next to each keyword or by selecting the keywords and clicking "To Keyword Manager." The Manager can help you keep track of the keywords you're currently following.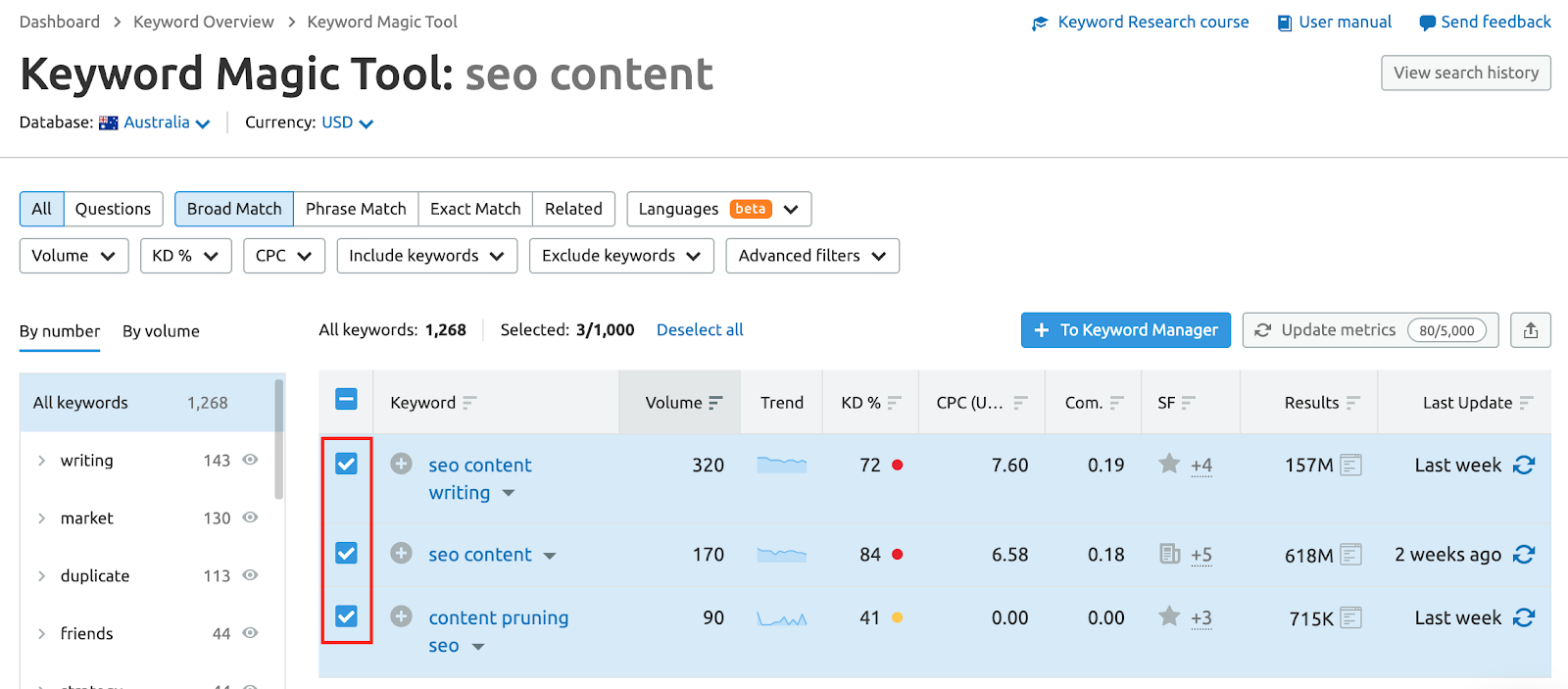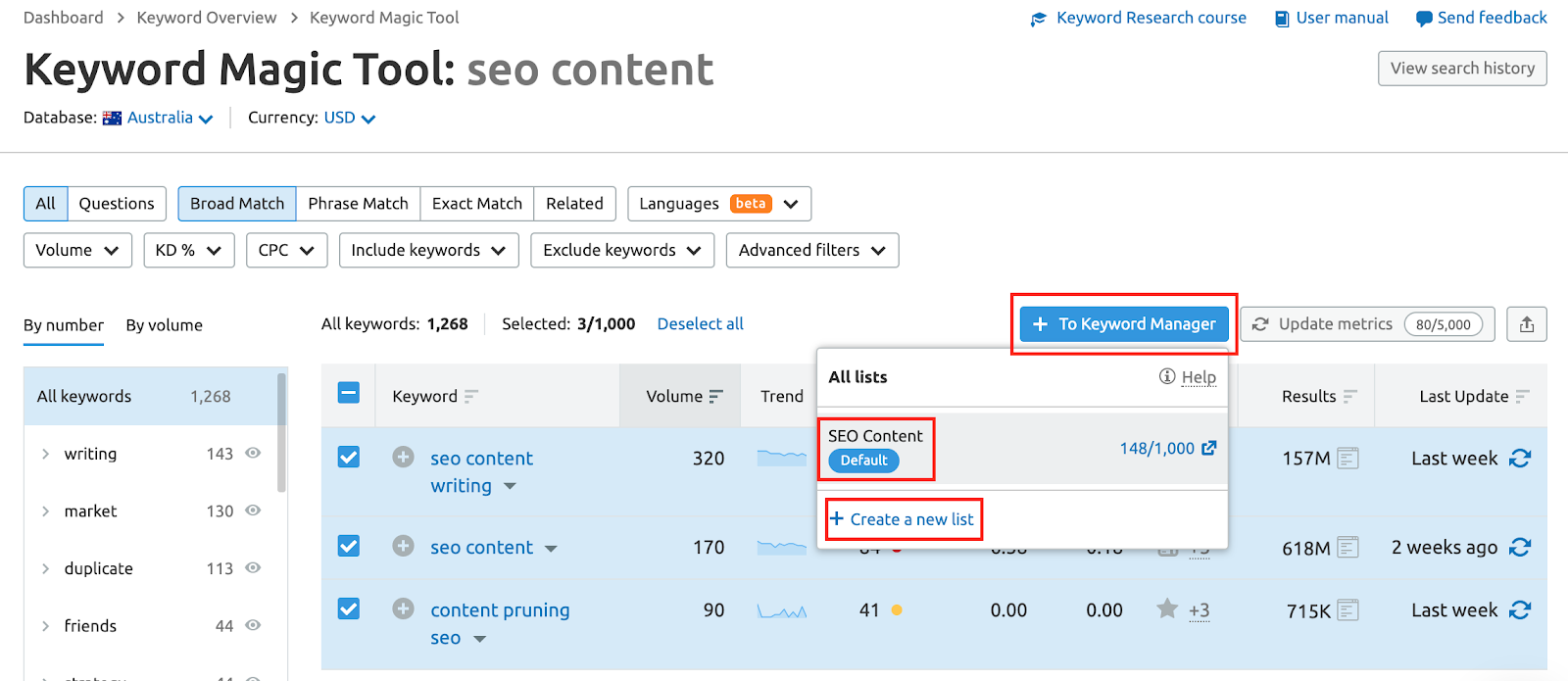 Photo: SEM Rush
You can store and analyze up to 1000 keywords, their search volume, trends, competitive density, and much more per list. Organizing keywords by campaign keeps you focused, helps prevent any duplicates, and can help you generate content ideas for your list. 
Find Topics to Cover 
With our Topic Research tool, you can generate topic ideas with popular headlines and questions already generated around your seed keyword. 
Start by entering your seed keyword into the tool. In this example, we're looking for content ideas for snowboarding: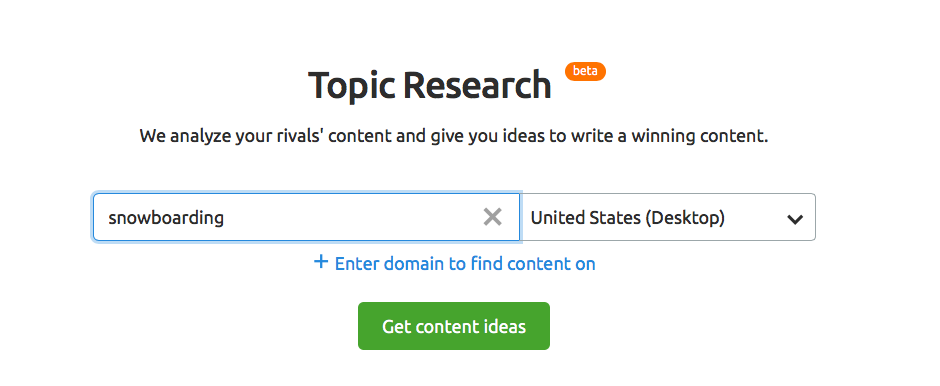 Photo: SEM Rush
The tool provides a list of topic ideas related to snowboarding. In the Cards view, each topic appears as a card, complete with top headlines, links, and questions: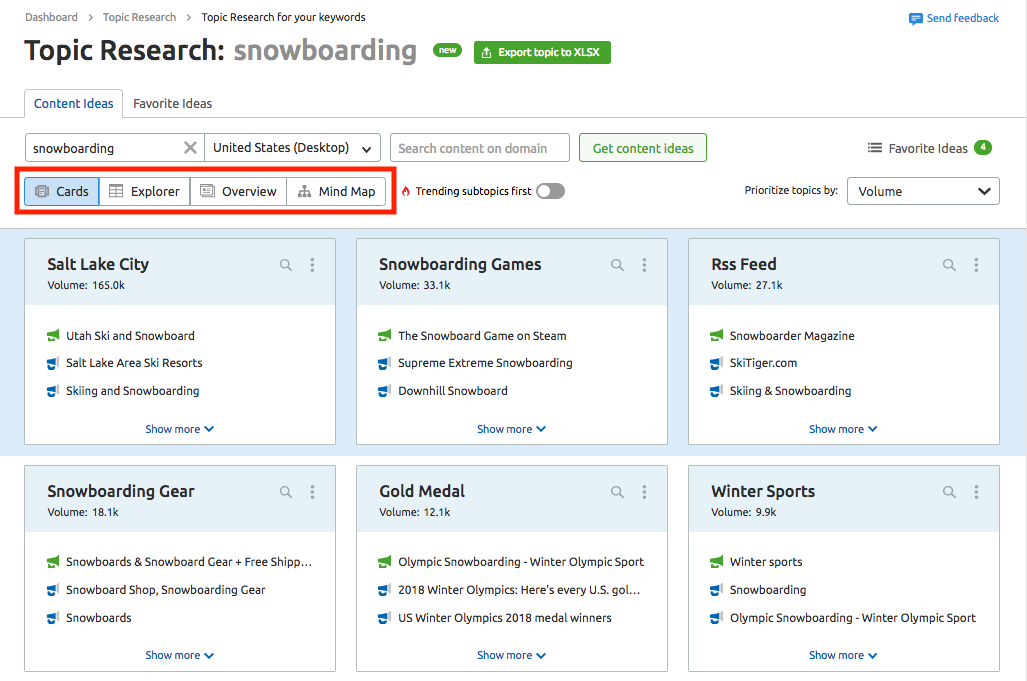 Photo: SEM Rush
Explorer View
Toggle the Explorer view for a breakdown of each topic's subtopic, backlinks, and total shares. This view helps you quickly determine which content ideas are already popular online. 
Consider:
Are there any content gaps you can fill?
Are there any subtopics you can cover more thoroughly than your competitors?
Photo: SEM Rush
Overview & Mind Map View
Switch to the Overview to see the top headlines and questions related to your keyword. In this example, we can easily review common questions about the world of snowboard bindings: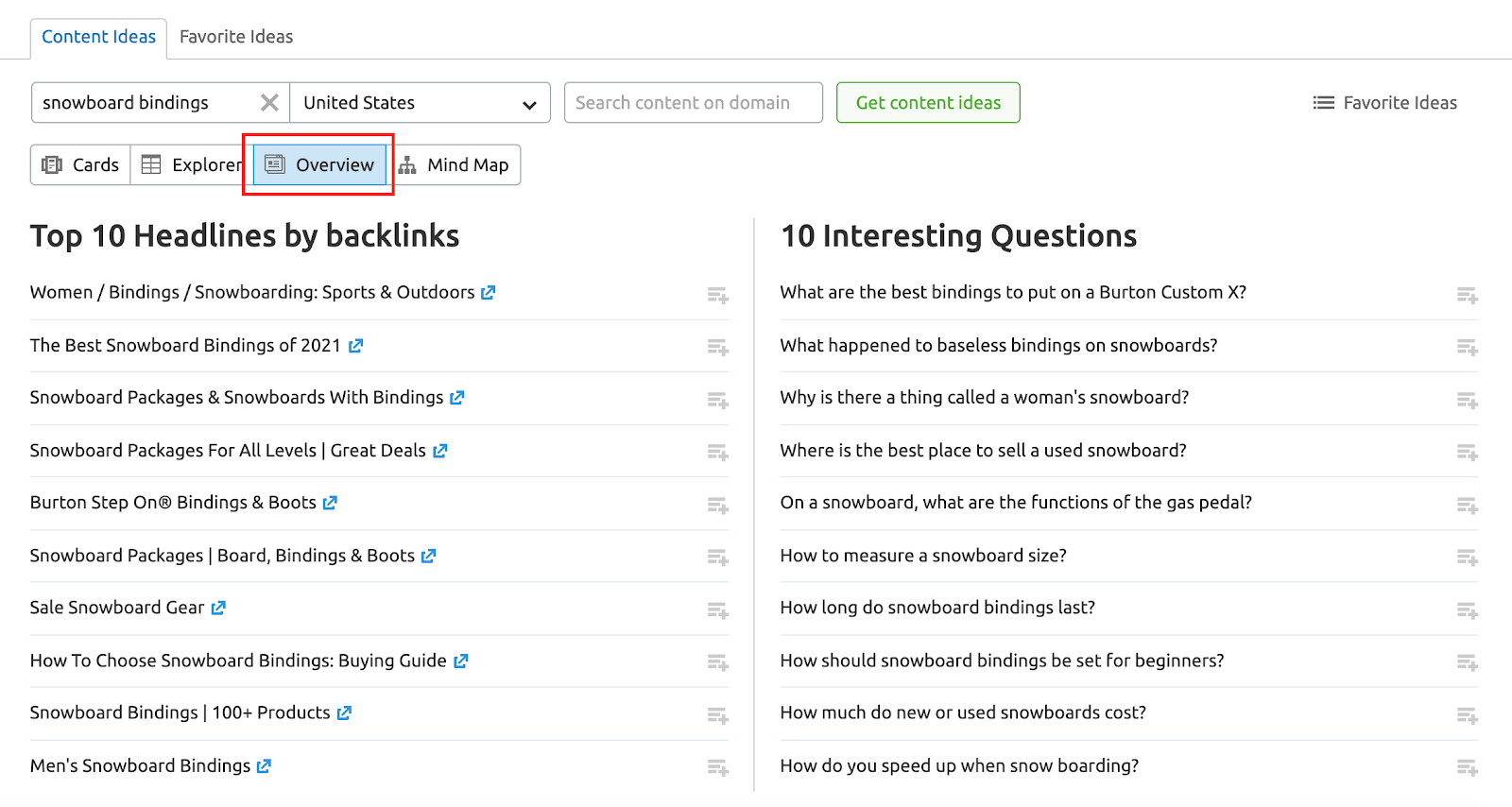 Photo: SEM Rush
Click on each headline to read a top article related to your keywords. Top headlines are based on articles with the most amount of backlinks. 
In the Mindmap view, the tool presents the main topic and its subtopics visually. Questions and headlines appear to the right of the map for at-a-glance viewing: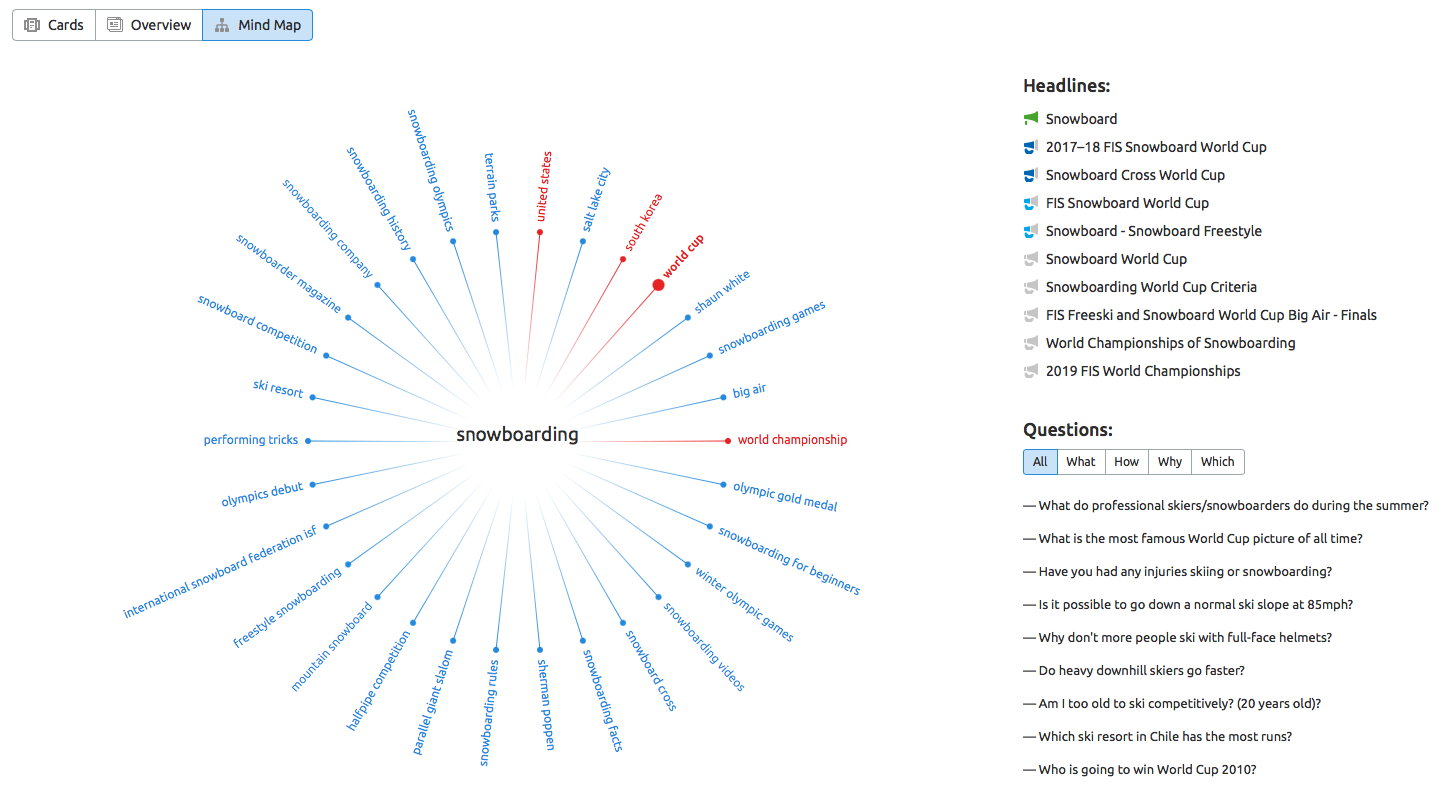 Photo: SEM Rush
Analyze Your Competition
Now you have your keywords and a few ideas great ideas for content. For more inspiration, you can peek in on your competitor's content to spot any opportunities. 
Competitor research is also a great way to ensure that your content remains original and engaging. Avoid penalization from Google and earn your users' trust by creating content that reflects your brand.
The SEO Content Template can help you generate content based on the top-ranking content for your topic. Enter your target keywords in the tool and select your target country.
In this example, we'll enter a few keywords related to SEO content, blog posts, copywriting for SEO, and so on:

Photo: SEM Rush
The tool analyzes the top 10 articles for each keyword, including their structure, word count, and backlinks. Then it returns a list of actionable recommendations for your piece:

Photo: SEM Rush
Recommendations include: 
Any semantically related keywords to include in your content
Potential backlinks
Suggested readability score
Average word length for content related to your keywords
Scroll even further to see the top articles for your keywords. Click through to each article for a better idea how your competitors use your target keywords in their copy: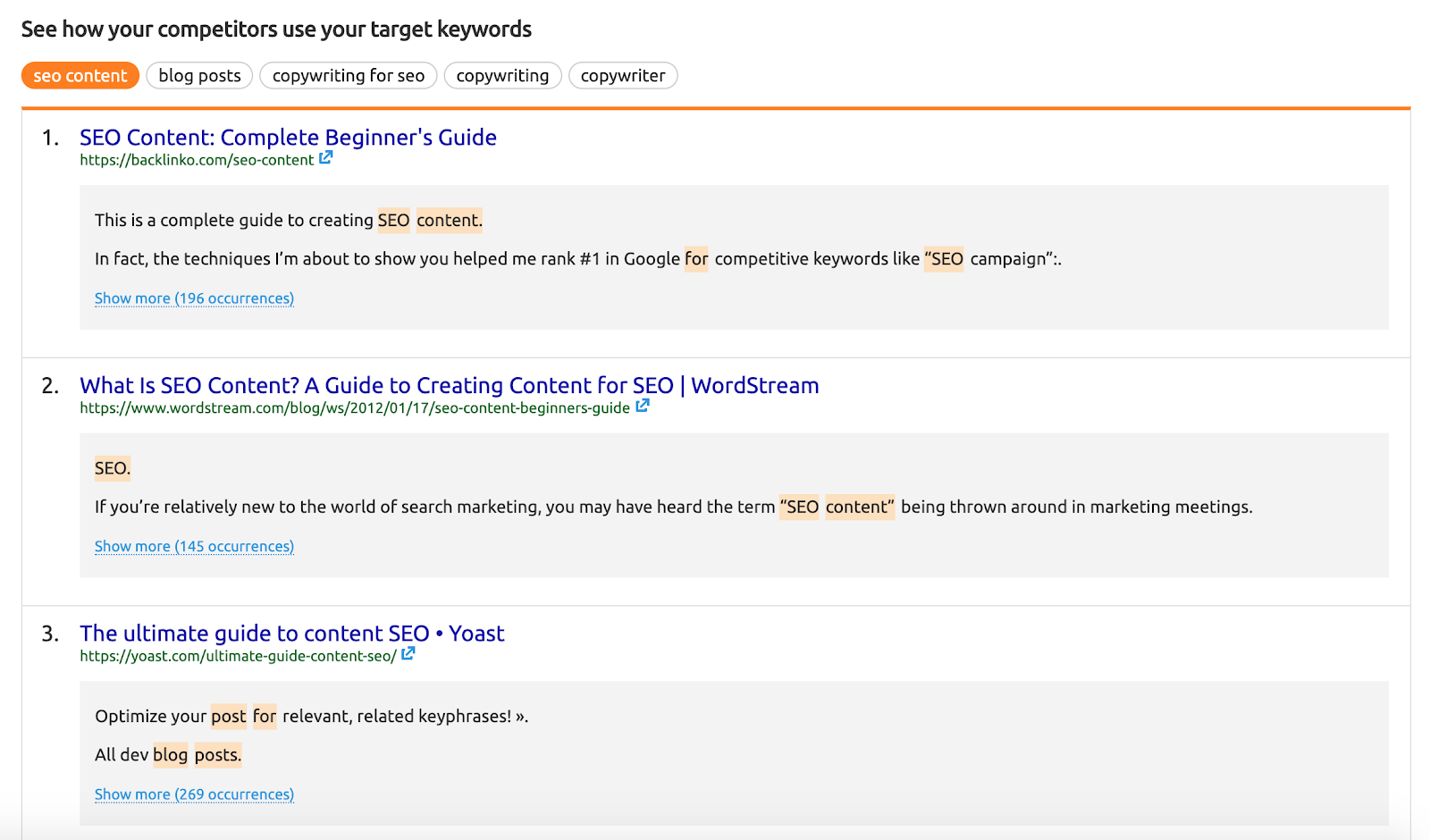 Photo: SEM Rush
Keep an eye out for any content gaps you can spot. Consider:
Are there keywords your competitors aren't using as often or at all?
Can you answer questions about your keywords that your competitors don't? 
Are there content formats you can use that your competitors don't (infographics, videos, etc?) 
Track Competitor Content
The Social Media Tracker tool is the natural follow-up to your competitive research. Keep 
track of your competitors' social media accounts, compare their engagement levels and identify top-performing content in your niche.
You can use the tool to track your competitors on Twitter, Facebook, Instagram (Business accounts), YouTube, Pinterest, and LinkedIn. You can also configure the Tracker to help you stay on top of social media trends or trending topics related to your niche. 
First, you'll need to create a new project or open an existing Project from your Project dashboard. Select Set up on the Social Media Tracker widget:
Photo: SEM Rush
The tool prompts you to add your and your competitors' domains to find social media profiles: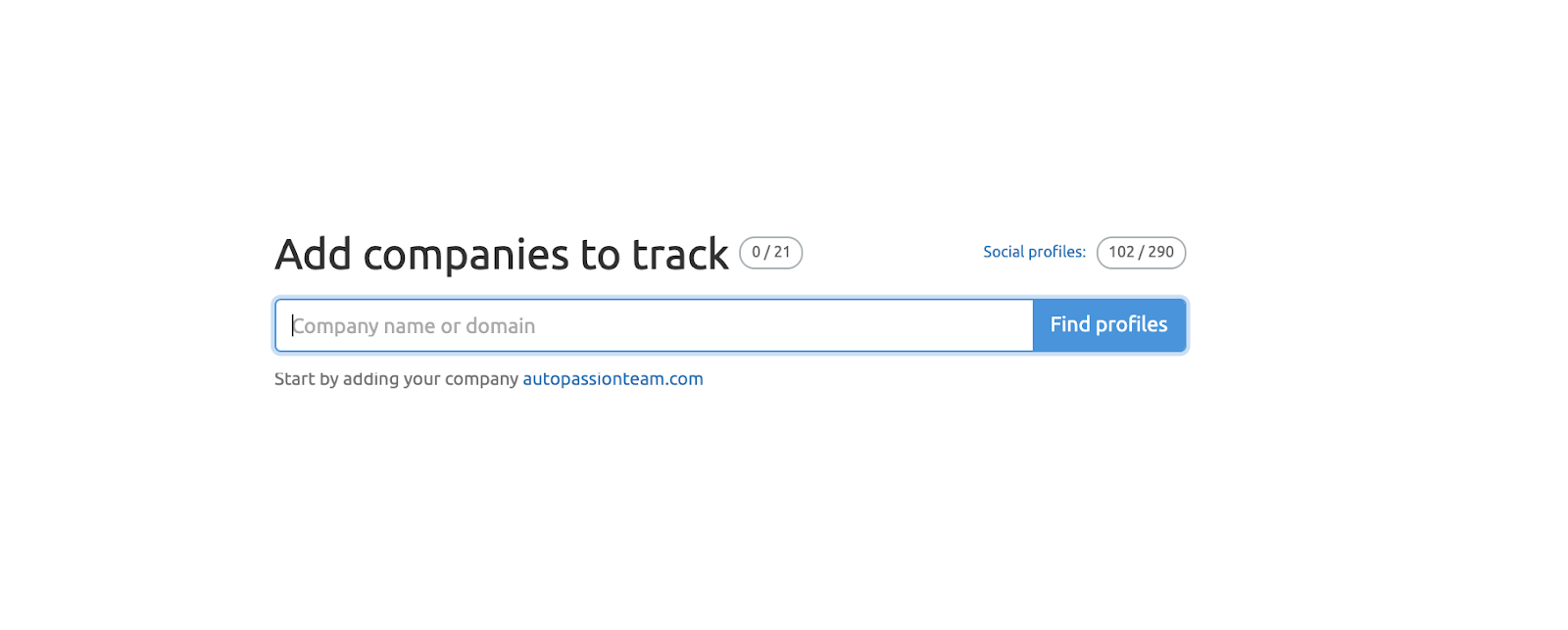 Photo: SEM Rush
Once you choose to set up a Social Media Tracker project, you can view each domain's social media profiles from the Overview report or individually via the toolbar: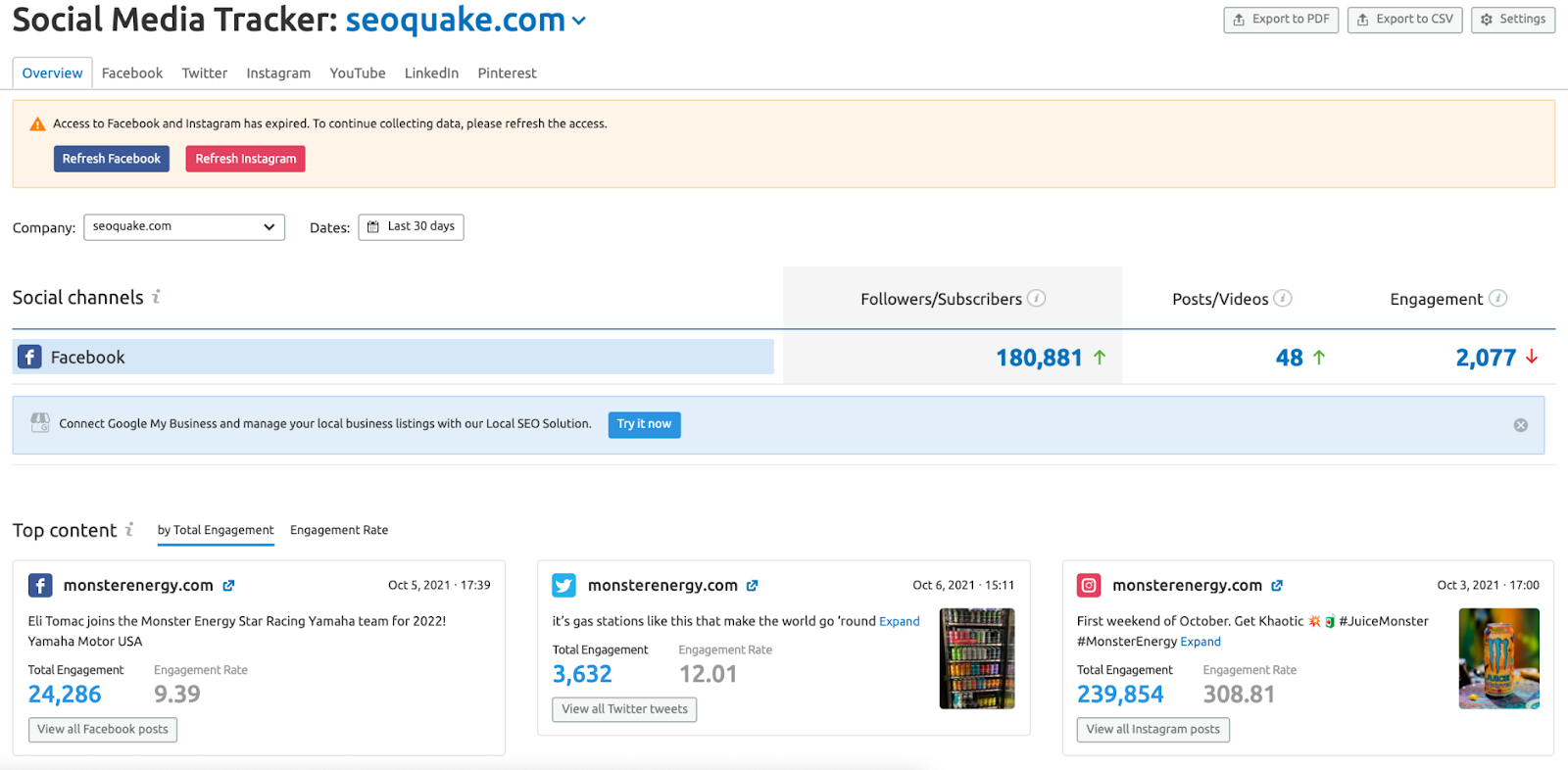 Photo: SEM Rush
Writing the Content
Now you can use your keywords and topic ideas to create your content. If you work with writers, you can add the information you've gathered to a content brief.
If you're creating your own content, good to write some yourself, so you get a feel for writing, and see how you can use all the keyword research you've done.
Identify Your User's Search Intent 
Search intent, is defined as the purpose of a user's search. Writing content that satisfies search intent signals to users and search engines alike that your content is relevant.
Your target keywords can tell you a lot about your user's search intent. Review each keyword to determine if they satisfy one of the four common types of search intent:
Photo: SEM Rush
Navigational intent: When a user wants to navigate to a certain website, they'll likely add branded keywords in their search (e.g. "Subaru website.") You likely wouldn't target these keywords with content. 
Informational intent: If a user wants more information on a topic, they might ask questions or use keywords that indicate they're looking for help (e.g. "What is a good car?") Service these keywords with informative content, like videos, lists, or tutorials. Create actionable content that answers your readers' questions.
Commercial Investigation intent: Once your user decides they want to purchase a product or service, they'll likely perform a search to compare their options ("Subaru vs Nissan.") Target these keywords with comparison articles, reviews, and product guides.
Transactional Intent: These keywords or phrases signal that a user is ready to buy (e.g. "Buy Subaru Forester.") They're now searching for the best value proposition. Target these keywords with strong, SEO-friendly content that highlights your unique selling proposition (USP.) You can also serve this intent with product pages and reviews. 
Determine Your Target Audience
Your target audience is the demographics that are most likely to use your products or services and relate most to your brand voice. Consider writing for both your current and future customers.
To better define your target audience:
Understand your audience demographics, including their ages, gender, location, and interests. 
Tap into your social media analytics. Many platforms provide their own analytics features that offer better insights into who engages with your profile.
Use the Market Explorer tool to track your market audience's demographics.
Understanding your target audience will determine the tone of your content. Your tone should reflect your brand's voice and appeal to your readers. Is your brand's tone of voice formal, technical, friendly, or casual? 
Structure Your Content
A good content structure makes it easy for users and web crawlers to scan your content and determine its relevancy. There's no one-fits-all approach to structuring your content, especially if you're working with different formats. But here are a few SEO-friendly tips to consider:
Start with a compelling headline: You want to entice your readers to click through to your content. You should include your keywords here so it's clear what your content's about.
Attract attention with a good intro: The first paragraph should grab the reader's attention and keep them on the page. If it's not clear that your content is relevant to their keywords or search intent, they're much more likely to click away from your page, which could increase your bounce rate. Explain quickly and clearly what your reader can expect, and include your target keywords where necessary. 
Break paragraphs up: Breaking paragraphs up into smaller, easier-to-read sections helps the reader scan through your content quickly. 
Include headings and subheadings: Headings and subheadings can also guide a reader through your content. Include them in a Table of Contents and include jump links to allow them to skip to the section most relevant to them. Your headings and subheadings should Include your target keywords.
Language: Don't stuff keywords. Write in a natural format and with average language. 
Follow up with SEO Writing Assistant once you've created your first or second draft. The tool analyzes top articles related to your target keyword to provide on-page recommendations for your content. Measure your copy's tone of voice, readability, SEO, and originality with easy-to-read scores and suggestions.
To use the Writing Assistant, copy and paste your copy directly into the input box. Enter your target keywords in the box to the right, and select your target country and device in the drop-down menu:
Photo: SEM Rush
Your copy's main score appears at the top of the right-hand panel, followed by a map of the four core elements.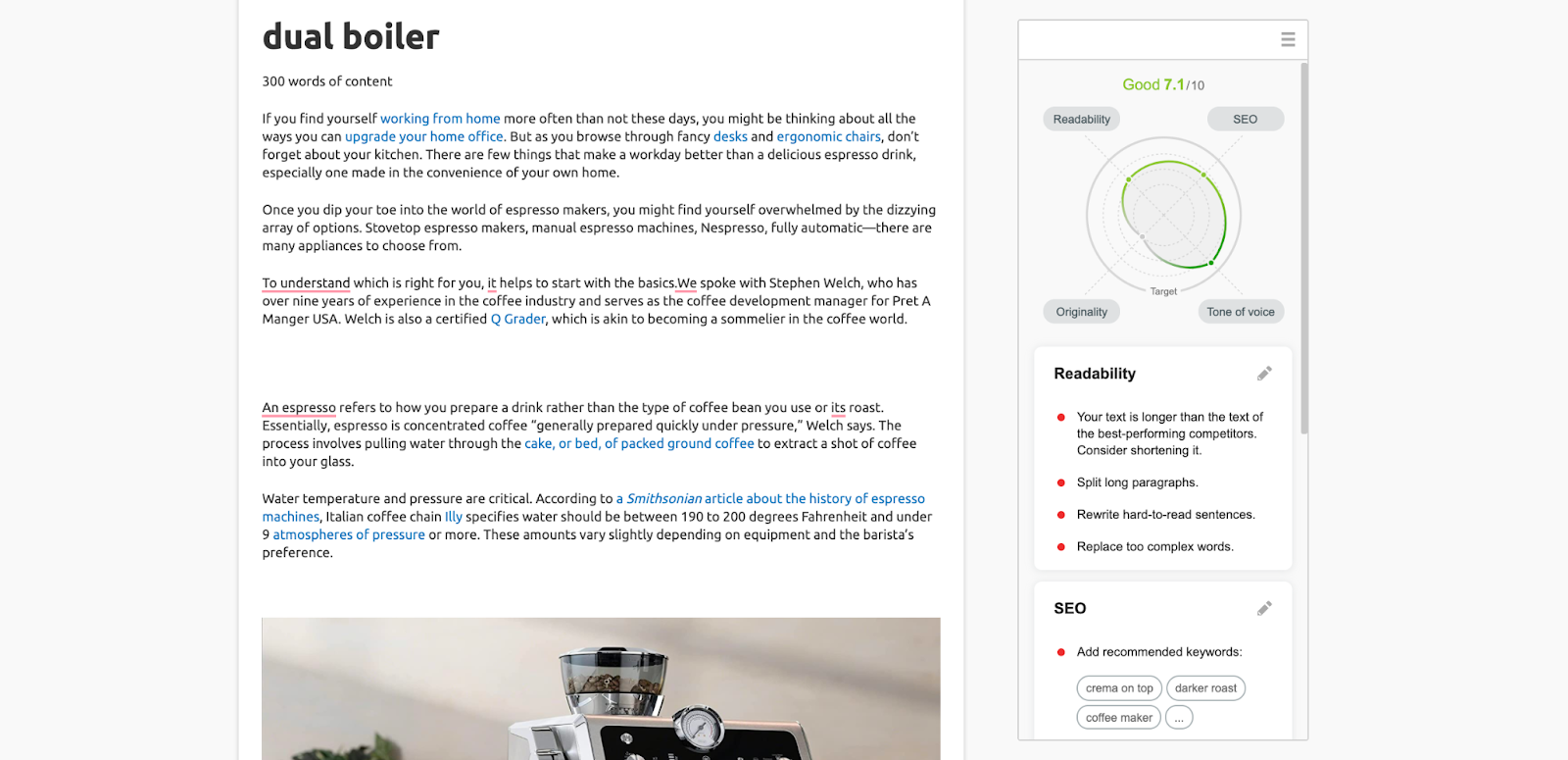 Photo: SEM Rush
Position Tracking
After you have published your content you can use the Position Tracking tool to monitor your performance for your target keywords over time. You'll need to monitor your positions for a few months; it'll take more than one article to see results. 
Set reminders to revisit your positions. The tool automates much of the process, so you can focus on tracking your losses or gains: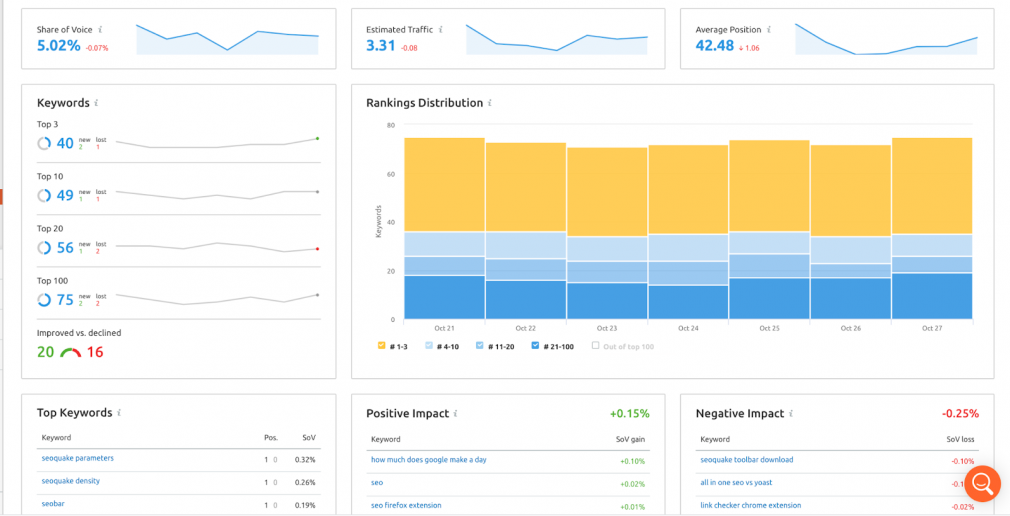 Photo: SEM Rush
Position tracking can indicate if you need to refresh your content, improve your web page's metadata, or address other elements of your content strategy. If you're losing out on top positions or not ranking at all, consistent position tracking can alert you early. 
Use the tool to track:
Multiple geographic locations in a single project
Multiple devices (desktop or mobile)
Pages with the most or least amount of traffic
Your share of voice
Your top keywords
Won or lost keywords
For more information on setting up a Position Tracking project, check out our guide to the Position Tracking tool.
Analyze Your Current Content
As part of the Content Analyzer, the Content Audit tool audits the current content on your website and its subfolders. The audit analyzes each subfolder's content for strengths, improvements, backlinks, and more. 
Configuring the Content Audit
You can select any folders or subfolders in your domain to audit. The tool pulls your website's subfolders with its sitemap; if it can't find your website's sitemap from your URLs or your robots.txt, you'll be asked to provide a direct link to your sitemap.
As you select subfolders, keep track of the overall pages at the top of the tool: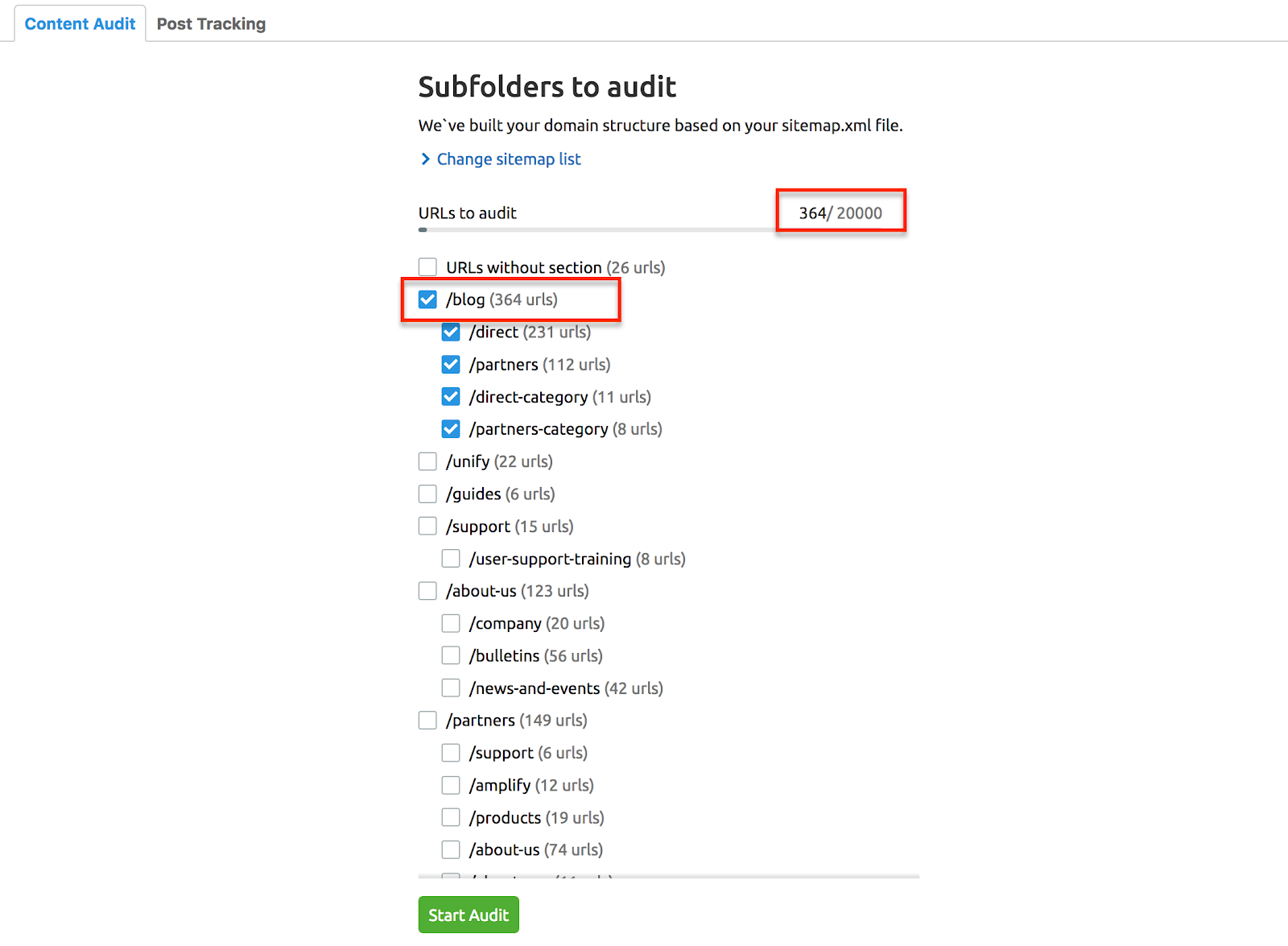 Photo: SEM Rush
Analyze Your Content in Sets
Your audit results appear in 4 specific sets:
Rewrite or remove: Pages published more than 24 months ago and viewed less than 15 times in the last 30 days are stored here.
Need to update: Pages published more than 6 months ago and viewed less than 15 times in the last 30 days are stored here.
Quick review: Pages published less than 6 months ago and viewed more than 150 times in the last 30 days are stored here.
Poor content: Pages less than 200 words long are stored here.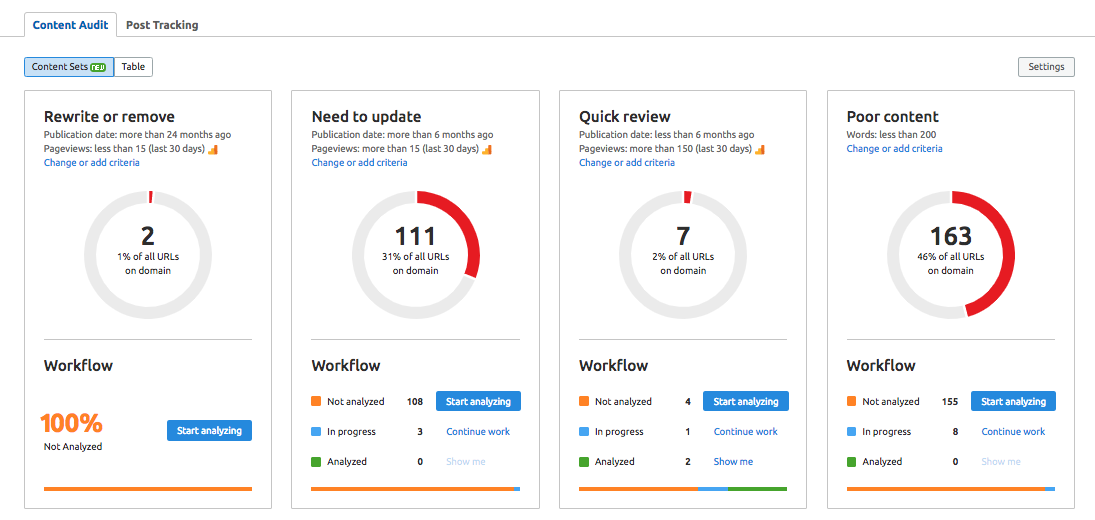 Photo: SEM Rush
Analyze each piece of content to review the page's stats individually. If you've integrated Semrush with Google Analytics, you'll see other important metrics, such as the page's bounce rate: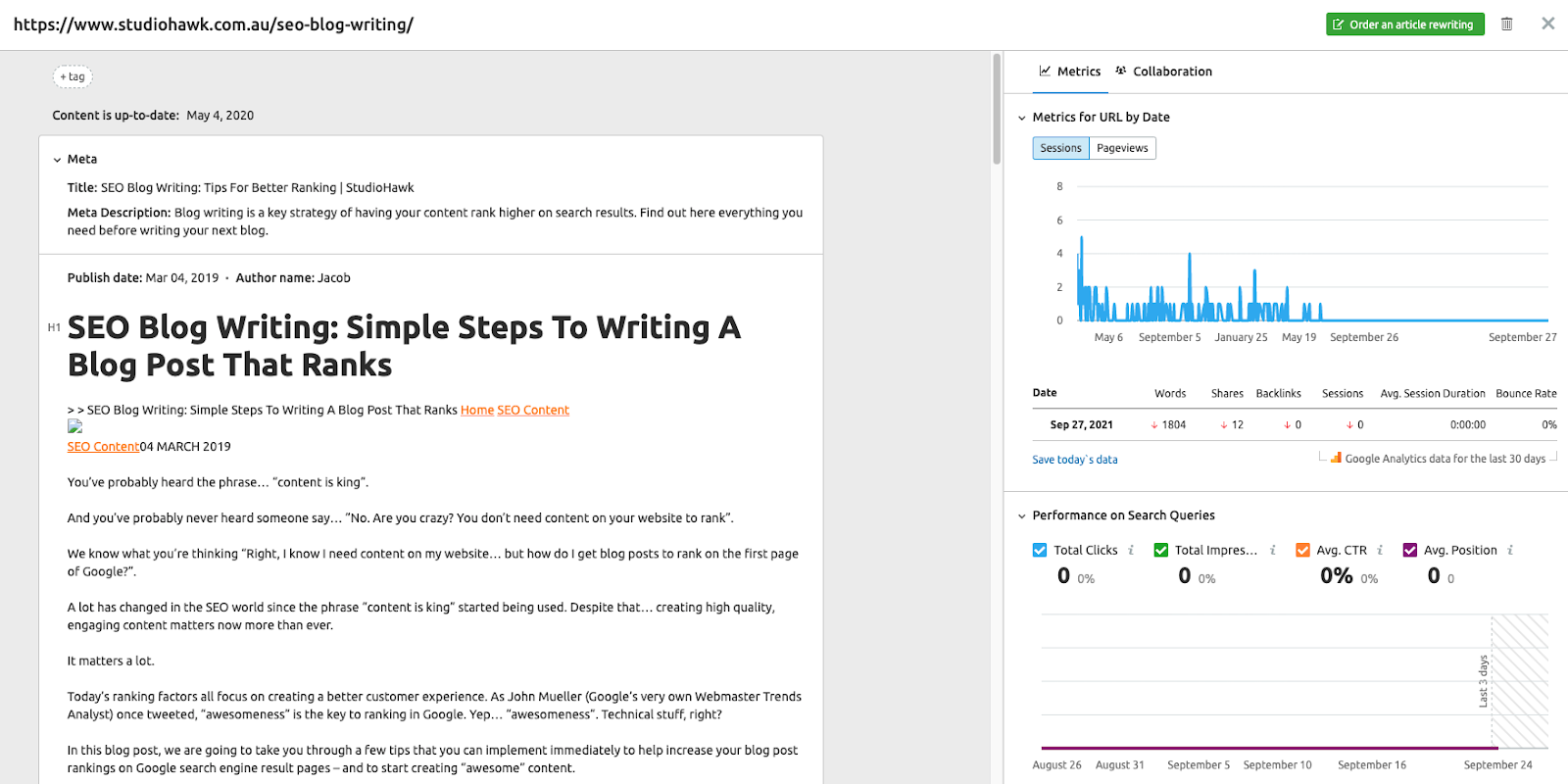 Photo: SEM Rush
Add notes or assign tasks to your content team with the Tasks feature in the right-hand panel. Note any changes that should be made to improve the content for users or SEO.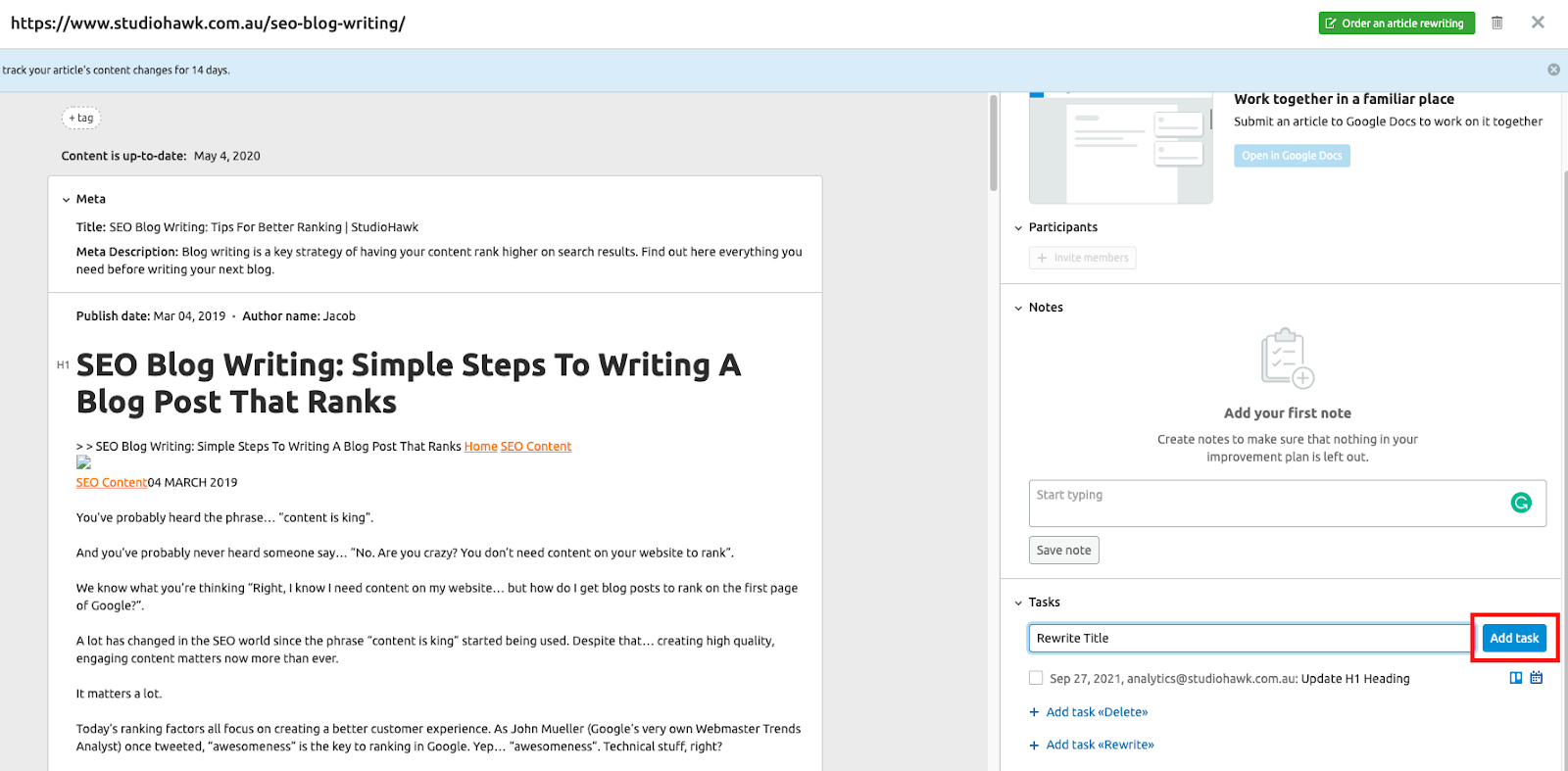 Photo: SEM Rush
Final Thoughts 
Having great content on your website is arguably the most critical part of SEO and one of the more significant drivers of traffic to your site. People want to consume good content, and if you have it, more people will come.
Semrush can help you construct and execute a comprehensive content strategy from top to bottom. Research your keywords, build out your content, and analyze your current content for an in-depth view of your website's content. 
Originally posted on SEM Rush.