Prebuilt Power Hour – Live Q & A's (SPECIAL TIME)
July 28 @ 4:00 pm
CDT
Free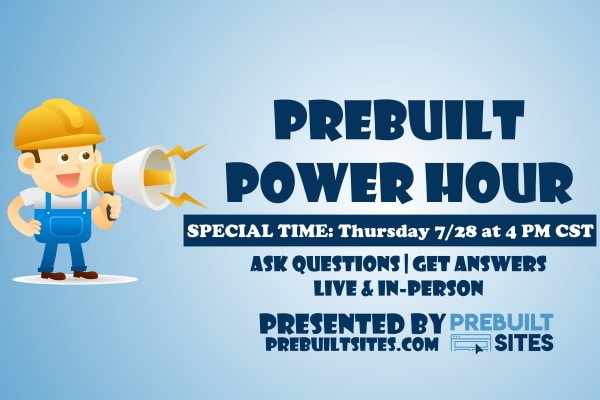 We answer your questions live on the air!
During our next Prebuilt Power Hour we will answer questions from the community and help members live on the air! We will also be talking with Megan Fine about her newly released course on How To Use Instagram Reels to Grow Your Online Following and her lifestyle as a digital nomad.
Members of Prebuilt Sites are invited to submit questions ahead of time to our team.  We will answer your questions live on the air in person. 
Need help on your site? Ask away!
Questions about choosing a name or color scheme?  Piece of cake! We are here to help!
Want to know more about search engine optimization?  We will teach you some tips & tricks!
Do you wonder about other online tools and services like a Google My Business page, social media, etc?  We will talk your ear off!
Got questions about the internet in general? Let us know! We stay on top of the trends and internet as a whole.
Questions submitted ahead of time will be answered first. If time allows we will open the floor to additional questions. 
SPECIAL TIME: 4 PM (instead of our usual 12 Noon)
Public is invited to attend and submit questions via chat.  
Register to attend the Prebuilt Power Hour!